Netflix December 2015: A Complete List of Movies and Shows Coming and Going in December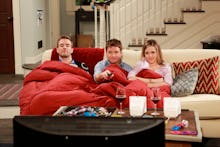 Cuffing season is nearly in full swing as couples shack up for the winter months and binge on egg nog and Netflix. The streaming service recently announced a slew of movies and TV shows it's adding to its online library, just in time for the holidays. Here's everything coming and going from Netflix in December. 
The holiday treatment: Some movies to get audiences in the Christmas spirit include A Very Murray Christmas, adding on Friday, as well as Christmas Wedding Baby and A Christmas Star, both joining the roster on Tuesday. Some family films are getting brought into the mix, from Leo the Lion to Santa's Apprentice. 
Check out the full list of films and shows coming to Netflix in December below, via the Verge:
Dec. 1
Dec. 2
Dec. 3
Dec. 4
Dec. 5
Dec. 7
Dec. 8
Dec. 9
Dec. 11
Dec. 14
Dec. 15
Dec. 16
Dec. 18
Dec. 19
Dec. 20
Dec. 21
Dec. 22
Dec. 23
Dec. 24
Dec. 25
Dec. 28
Dec. 30
Dec. 31
Below are all of the Netflix streaming options to which audiences will be forced to say goodbye in December, via Yahoo: 
Dec. 1
Dec. 4
Dec. 6
Dec. 9
Dec. 10
Dec. 11
Dec. 12
Dec. 13
Dec. 15
Dec. 17
Dec. 21
Dec. 24
Dec. 30