People Are Furious About This "Slut-Shaming" Crop Top for Teenage Girls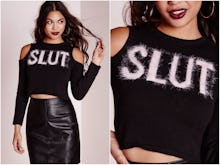 Encouraging young women to self-identify as sluts might not be the best way to sell holiday merchandise. This message seems to have have been lost on the online retailer Missguided, which has been facing backlash for selling a Lindsay Bluth-inspired fuzzy crop top emblazoned with the word "slut."
The teenage fashion brand initially sold the sweater before Halloween, calling it "the perfect piece for an easy outfit." Almost immediately, people complained on social media, accusing Missguided of taking the sexualization of teen girls to a new level. 
Missguided put the controversial shirt back on sale recently, just in time for the holiday season. The shirt has reignited criticism that the retailer is promoting slut-shaming among teen girls. 
"It's actually offensive — 'slut' shouldn't even be a part of our vocabulary anymore," blogger Lorna King wrote. "This sends out an unbelievably wrong message to impressionable teens." 
In itself, the use of the term "slut" on a T-shirt doesn't necessarily have to be read as offensive. In fact, some feminists have argued reclaiming the word "slut" can encourage young women not only to take back the pejorative term, but to take control of their sexuality and their sexual expression as well. In this context, Missguided might well be attempting to encourage girls to take ownership of the term in an empowering way. 
Many other anti-slut-shaming advocates, however, have argued the word is always negative, regardless of context. They say calling someone a "slut" is a way of reducing girls and women to their sexuality by silencing them and turning them against each other. 
"You can't be a 'slut' and also a doctor and also a kind person and also a mother," UnSlut Project founder Emily Lindin told Mic earlier this year. "You're just a 'slut.'"
Missguided isn't the first retailer to be blasted for selling merchandise that promotes the term. Suburban mall store Spencer's Gifts has been roundly criticized for selling shirts that shame and diminish women, such as one that reads, "Twinkle, twinkle little slut, name one guy you haven't fucked," as well as other sexist attire. 
Other retailers like Abercrombie and Fitch and the brand Bad Kids Clothing have been called out for more implicit forms of slut-shaming. Both brands previously released T-shirts that critiqued Taylor Swift for having too many boyfriends.
In each of these cases, one thing is clear: If you sell a shirt telling teenage girls that they're sluts, the Internet will likely tell you to STFU. 
h/t Daily Mail