Jury Selection Begins in Baltimore for First Officer Charged in Freddie Gray Homicide Case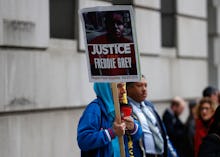 The first of six officers charged in connection with the death of Freddie Gray in April is set to stand trial Monday with jury selection currently underway at a Baltimore court. Presiding Judge Barry Williams has ruled that the jurors will not be sequestered but will remain anonymous, CBS News reports.  
William Porter, 26, is scheduled to appear in Baltimore City Circuit Court to answer for his alleged role in Gray's death. The officer is facing charges of involuntary manslaughter, assault/second-degree murder and misconduct in office. The first two charges each carry up to 10 years in prison.
Gray, 25, died on April 19 after suffering a spinal injury. The incident occurred under suspicious circumstances while Gray was in police custody after being arrested on April 12. In May, Maryland State's Attorney Marilyn J. Mosby called his death a homicide and announced a range of charges against Porter and five other officers involved in the case. Mosby also said that Gray should never have been arrested by police as he had committed no crime and that a knife he had been carrying at the time of his arrest was legal. 
"The findings of our comprehensive, thorough and independent investigation coupled with the medical examiner's determination that Mr. Gray's death was a homicide ... has led us to believe that we have probable cause to file criminal charges," Mosby told reporters in May.  
Mosby explained the gruesome injury to Gray's spinal cord that resulted in his death. "The manner of death, deemed a homicide by the Maryland state medical examiner, is believed to be the result of a fatal injury that occurred while Mr. Gray was unrestrained by a seat belt in the custody of the Baltimore Police Department wagon," Mosby said, according to KTLA.
The incident sparked waves of protests in Baltimore that escalated into days of rioting. While the city experienced a number of incidents of looting, destruction of property and disorderly conduct, a majority of the protestors were peaceful, contrary to many reports at the time. A number of commentators online also pointed out what they said was the hypocrisy of how the media covers riots of white protesters versus those of black protesters. 
Porter's trial is the first of what will likely be six bruising and emotionally charged hearings for each of the other officers involved in the case. The other defendants are Caesar R. Goodson Jr., Brian W. Rice, Edward M. Nero, Garrett E. Miller and Alicia D. White. 
As a group, the officers have been called the "Freddie Gray Six" and are facing changes ranging from misconduct in office to second-degree depraved heart murder, the latter carrying a maximum of 30 years in prison. At least one of Porter's colleagues, Goodson, could spend up to 63 years in prison if convicted on all counts.
Trials for the other officers are expected to start between January and March of next year.