Porn Stars Tori Lux and Ashley Fires Join Stoya in Accusing James Deen of Sexual Assault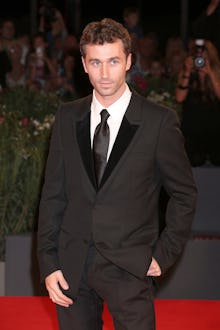 On Saturday, adult film star Stoya accused James Deen, a fellow porn actor and former boyfriend, of sexually assaulting her. By Monday, two more adult film actresses had come forward with similar allegations. In a personal essay published in the Daily Beast, Tori Lux shared an encounter she had with Deen during which he allegedly "ruthlessly attacked and degraded" her. Adult film actress Ashley Fires separately told the Daily Beast that she has refused to work with Deen because, according to her, he tried to rape her in a porn studio shower.
"The reason I put him on my 'no list' was because he almost raped me," Fires told the Daily Beast. "The only time I'd ever seen this guy, he walked into the green room at Kink [Studios], picks up Jessie Cox like a caveman, grabs her by the hair, and takes her off somewhere... and I can only imagine."
Fires then described an incident she said happened later in the communal shower at Kink Studios. Speaking to the Daily Beast, Fires said Deen sexually assaulted her in the shower and shoved her against the sink before she was able to get him to back off. 
In Lox's essay published Monday, she describes a violent encounter with Deen, who beat her after she refused a lewd advance. From Lux's essay:
A few people with whom I've shared this story over the years have asked me why I didn't call the police as soon as it happened, or publicly speak up about it shortly thereafter. The reason for that is because people — including the police — tend to believe that sex workers have placed themselves in harm's way, and therefore can't be assaulted. Of course, this claim couldn't be further from the truth, as being involved in sex work does not equate to being harmed. Despite porn being a legal form of sex work, and it occurring in a controlled environment such as a porn set, this blame-the-victim mentality is still inherent in much of society. In turn, sex workers are silenced and our negative experiences are swept under the rug as we try to protect ourselves from the judgment of others — or worse, a variety of problems ranging from further physical attacks to professional issues such as slander and/or blacklisting.
Simply put: I was afraid.
Two tweets from Stoya set the story in motion on Saturday. "That thing where you log in to the Internet for a second and see people idolizing the guy who raped you as a feminist," Stoya wrote. "That thing sucks." Deen has made a name for himself as somewhat of a feminist, and has risen in popularity in recent years to the point where Esquire once called him the "Ryan Gosling of Porn."
Here's what Stoya had to say about Deen:
It didn't take long for the hashtag #SolidarityWithStoya to begin trending on Twitter and for social media users to offer her their support.
On Sunday, Deen spoke out against the allegations against him in a mini-rant on Twitter. "There have been some egregious claims made against me on social media," Deen wrote. "I want to assure my friends, fans and colleagues that these allegations are both false and defamatory."