Who Is Lucy Maud Montgomery? Google Doodle Celebrates the 'Anne of Green Gables' Author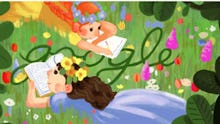 Monday's Google Doodle features a young, bright-eyed and bushy-tailed girl, a tribute to Canadian writer Lucy Maud Montgomery for her series of famous children's books on what would've been the author's 141st birthday.
Montgomery's legacy: The doodle depicts well-known scenes from Montgomery's most famous work, the early 20th century children's book series Anne of Green Gables. Montgomery was born on Nov. 30, 1874, according to a biography on a website dedicated to the author, on Prince Edward Island off the coast of Nova Scotia, Canada, where all but one of her 20 published books take place. Montgomery wrote the first novel of the series about a young, redheaded orphan in 1905 after returning home as a young adult to take care of her grandmother following her grandfather's death. 
The novel was first rejected before it was picked up and published three years later in 1908, which marked the start of a career that would make her a legend.
Montgomery's upbringing: Montgomery's father left her to her grandparents after her mother died of tuberculosis before she was two years old. As an only child, Montgomery escaped loneliness through writing, according to her biography. As a young adult, she earned a teaching license from Prince of Wales College and did a brief teaching stint in Nova Scotia before returning home.
Anne of Green Gables was rejected by several publishers upon Montgomery's first round of submissions. When the novel was picked up in 1908, it was an instant best-seller. 
Montgomery moved away from Prince Edward Island for good after marrying a reverend in 1911, but Anne of Green Gables-related sites throughout the island, including several museums and the home where the series took place, remains a main tourist attraction.