Ted Cruz Lauds Anti-Abortion Extremist Eight Days Before Planned Parenthood Shooting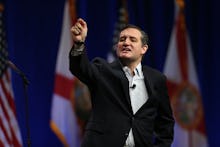 Presidential candidate and Texas Sen. Ted Cruz, who on Sunday suggested the shooter in a bloody Friday rampage on a Planned Parenthood clinic in Colorado Springs, Colorado, was a "transgender leftist activist," maintains ties to violent factions of the anti-abortion movement.
Right Wing Watch reports that just eight days before Robert L. Dear, 57, was arrested for killing three people and wounding nine others at the facility on Friday, Cruz bragged about an endorsement he received from the head of Christian pro-life organization Operation Rescue, Troy Newman.
In a statement on the senator's campaign website, Cruz said, "I am grateful to receive the endorsement of Troy Newman. He has served as a voice for the unborn for over 25 years, and works tirelessly every day for the pro-life cause. We need leaders like Troy Newman in this country who will stand up for those who do not have a voice."
But Newman has a history of openly endorsing violence against doctors and medical staff involved in providing abortion services.
Meanwhile, Newman's organization insists that it has only encouraged social conservatives to work through "legal, legislative, and justice systems" to achieve its goals, and denounced the shootings on its website.
But Right Wing Watch noted that in his book, Their Blood Cries Out, Newman wrote that the United States government's responsibility to "properly deal with the blood-guilty ... rightly involves executing convicted murderers, including abortionists, for their crimes in order to expunge bloodguilt from the land and people."
While Newman noted that he only believed in "lawful execution ... commanded by God in scripture," he nonetheless came to the defense of Paul Hill, a man who murdered abortion provider John Britton and his volunteer escort, James Barrett, in 1994. Newman told reporters that the time that Hill was "little more than a political prisoner," according to the Florida Times-Union.
A profile on Operation Rescue written for People for the American Way notes Newman has been noncommittal or even defensive when members of the anti-abortion movement commit acts of violence. After President Bill Clinton signed a law in 1994 banning protesters from physically preventing women from entering medical facilities that provide abortion, Newman responded by saying, "With the upsurge of legislation against peaceful and nonviolent free speech, some people, unfortunately, are being driven to different means."
In early October, Newman was deported from Australia for being, Australian authorities said, "a threat to good order."
In the wake of the shooting, many noted violence and threats against Planned Parenthood had increased sharply after prominent Republicans, including Cruz, again raised baseless allegations that the nonprofit was involved in illegal trafficking of fetal organs. Democratic presidential candidate and Vermont Sen. Bernie Sanders explicitly connected the attack to right-wing rhetoric on abortion in a statement on Twitter.
Cruz also recently spoke at the National Religious Liberties Conference alongside former Arkansas Gov. Mike Huckabee and Louisiana Gov. Bobby Jindal. The event was organized by Kevin Swanson, a pastor who advocates the death penalty for gays.
h/t Right Wing Watch