Kylie Jenner's Sold-Out Lipsticks Say Everything About Our Modern Beauty Obsession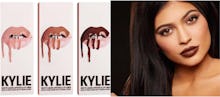 It's officially King Kylie's turn to break the Internet. The youngest of the Kardashian clan effectively asserted her dominance on all things social media when the website selling her first collection of lipsticks crashed shortly after it went live on Monday at noon EST. By 1 p.m., visitors were greeted with — what else? — an image of Kylie Jenner's lips and a "We'll be right back" message.
What's getting everyone so excited? The Kylie Lip Kit is the product in question. The bigger obsession, of course, is Jenner's very big, very luscious, very unreal lips.
Kylie Jenner's lips, in a box: The "lip kits" for sale on Jenner's website come in three shades, each including a lip liner and a matte liquid lip stick. The three colors also all contain the letter "K" (because what else would you expect from a family known to play up their initials?). 
There's a light pink color called, "Candy K";  a taupe shade, "Dolce K"; and finally, "True Brown K," a deep brown that is right on trend.
Jenner and her team had been promoting the rollout of the products with some carefully organized posts on all of their social media accounts, with Jenner in particular using Snapchat to promote the Kylie Lip Kit. As Teen Vogue pointed out, "First there was the sneak peek at the packaging, then there was the inside look at the color testing, followed by a behind-the-scenes glimpse at her official lip kit photo shoot." In keeping with her family's marketing-machine strategy, Jenner also has her own site with all sorts of tantalizing behind-the-scenes goodies (if you're willing to pay money).
In the 24 hours leading up the official Kylie Lip Kit release, the marketing went into overdrive, with an entire account on Instagram launched specifically for the products. Within a day, the account has over 416,000 followers, with all 13 posts dedicated to product images and photos of Jenner and model Jordyn Woods wearing the $29 lipstick-and-liner set.
A cultural obsession with big lips: It only makes sense that Jenner would roll out a makeup line devoted to lip products. It is, after all, the feature that she loves highlighting with makeup, and the girl's makeup is always on point.
Jenner's good at eyeliner and nails, too; but that's not the point. With Kylie, it's all about the lips — and given Jenner's outsized influence, her outsized lips have influenced ours. 
We've heard plenty about Jenner's lips in the past year, her pout the subject of many a think piece and "how to" article. Let's recap: It all began with the initial speculation last fall as to whether or not Jenner's newly oversized lips were "real" or not. Jenner denied tabloid rumors that she'd gotten plastic surgery and instead said she got the look thanks to some expert lip liner technique. 
That, of course, inspired plenty of makeup tutorials on YouTube where beauty bloggers tried to recreate the newfound "Kylie" look by lining lips outside the natural lip line to fake a fuller pout. 
Things took a turn for the worse with the viral #KylieJennerLipChallenge, which had sometimes disastrous consequences for the teens who thought they could get lips like Jenner's by sucking on a shot glass. (Spoiler: Don't do it.) After that episode and the public backlash, Jenner admitted she'd used temporary injections, which aren't technically surgery, to get her now-signature full lips.
But the public acknowledgement that Jenner's lips were never "real" now meant that she could own her new look, free of any shaming. Jenner loves her new lips, if her posts on social media are any indication. (Just look at her meta Instagram post poking fun at her own growing lips.) 
And we want to have those lips too. Our desire to get Kylie lips has expanded beyond Kylie herself, to fan the flames of what was already a brewing beauty standard. This year, we've sought out the YouTube tutorials and lip-plumping products, but also seen a growing interest in tattooed lip liner and the rise in lip injections procedures. 
The consensus in pop culture? Bigger lips are better lips. So why not use every tool in your arsenal to get them?
Big lips have been favored as a beauty standard on and off over the years; now, thanks to Jenner, a desirable beauty trait has been lifted to the level of craze. With her kit, Jenner has given women — or really, legions of young girls who idolize her — one more way to reach for another impossible beauty standard and get the "better" face they've been dying for. 
But hey, at least lipstick is safer than needles.