Animal Collective's New Album for 2016 — Here's Everything We Know About 'Painting With'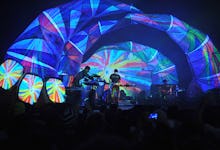 Four-piece psych rock band Animal Collective revealed details on Monday surrounding the release of their 11th studio album, Painting With. The prolific band, which originated in Baltimore in 1999, also gifted fans the album's first single, "FloriDada." The track is available for streaming on YouTube, Spotify and iTunes, or fans can download the single by preordering the record via Animal Collective's website. The full record is scheduled for release on Feb. 19, 2016.
"Painting With is the 11th full-length Animal Collective album," explains the record's order page. "It was recorded in 2015 at EastWest Studios in Hollywood, California and mixed at Gang Recording Studio in Paris, France with Sonny DiPerri."
Animal Collective posted audio of "FloriDada" on YouTube on Monday: 
Four musicians, each with their own stage name, make up the roster of Animal Collective: Noah Lennox (Panda Bear), David Portner (Avey Tare), Brian Weitz (Geologist) and Josh Dibb (Deakin). Yet not all members work on each album Animal Collective releases. On Painting With, as Merriweather Post Pavilion, an album released in 2009 and named after a popular outdoor music venue in Maryland, the band loses Dibb as a contributor.
Painting With Aesthetic: For a band that built its brand on a careful mixture of dissidence and pop, the group made a concerted effort to refrain from veering too far into ambiance or abstract sonic territory on its latest release. Instead, Animal Collective hopes to offer fans a streamlined, more direct body of work by pairing down its sound. 
"We talked about no ambient [passages]," Weitz said in a Monday interview with Rolling Stone. "Even [2009's] Merriweather Post Pavillion, people were saying was our poppiest record up to that point, but there still were like long, drawn-out passages of drone. With this one we were just like in and out. No long buildups to get to it, no long outros. We talked about, like, our Ramones record."
"Even back to like [2007's] Strawberry Jam, we've wanted to do a record that was a little more close-up, direct, Beatles-y style record," Portner also told the magazine. "It didn't really make sense with the songs until now. And maybe just 'cause we actually wrote them to be that way.
Fans who preorder the album will have a choice of three covers, each a surrealist portrait of one of the band members created by artist and musician Brian DeGraw.
"Animal Collective are a group of four best friends who grew up playing and recording music together in Baltimore County, Maryland," the band explains in a Facebook bio. 
Why Animal? Because it's the only word we could think of that made any remote connection to what we thought our sound was, and, of course, we love our fellow animals very much.
Per the band, here's the Painting With track list:
1. FloriDada  
2. Hocus Pocus
3. Vertical
4. Lying in the Grass
5. The Burglars
6. Natural Selection
7. Bagels in Kiev
8. On Delay
9. Spilling Guts
10. Summing the Wretch
11. Golden Gal
12. Recycling
7" track list:
A. Gnip Gnop
B. Hounds of Bairro
While we wait, relive the psychedelic, mind bending sound that is Animal Collective's singular styling on the video for "Brother Sport," which is the closing track to Merriweather Post Pavilion.
Correction: Nov. 30, 2015