Amy Schumer Poses Nude for Annie Leibovitz and Everyone Is in Love With It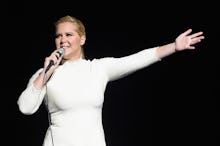 Comedian Amy Schumer tweeted an intimate, almost-nude portrait of herself shot by renowned photographer Annie Leibovitz on Monday, and Twitter has been bursting with admiration.
For the revealing photo's caption, Schumer lists contrasting adjectives, including "ugly," "sexy," "thin" and "fat." Schumer has often used her body as a source of comedy but has also gotten real about her body image issues. In an interview earlier this year on the The Ellen DeGeneres Show, Schumer joked that in Los Angeles, her "arms register as legs." In an October interview on Today, she opened up about her lifelong struggle with body image. 
One Twitter user called Schumer their "spirit animal," and it only got better from there.
Another expressed envy over Schumer's body. 
The image earned her the inevitable "YAS QUEEN."
Among the responses was an influx of raw, honest thanks and admiration.
Schumer is one of the women to be featured in Pirelli's 2016 calendar, a provocative book produced annually by the Italian tire manufacturing company Pirelli. In September, Pirelli announced and teased a completely reworked vision for the 2016 edition of its traditionally supermodel-filled calendar. This year's edition, shot by Leibovitz, will feature portraits of women who represent the modern feminist movement, including Schumer, Yoko Ono, Ava DuVernay and Serena Williams. All final shots from the calendar were revealed on Monday. 
Since it launched in 1964, the Pirelli calendar has been known to feature mostly-nude photos of the world's top supermodels — honoring women who achieve a largely unattainable beauty standard. Last year's calendar included models like Gigi Hadid, Carolyn Murphy and Karen Elson. 
"I started to think about the roles that women play, women who have achieved something," Leibovitz said about the difference in this year's Pirelli calendar in a September statement. "I wanted to make a classic set of portraits. I thought that the women should look strong but natural, and I decided to keep it a very simple exercise of shooting in the studio. This calendar is so completely different. It is a departure. The idea was not to have any pretense in these pictures and be very straightforward." 
"It's an emotional thing," Schumer told Today's Maria Shriver in October. "It's been a struggle for me my whole life, and especially just being in the entertainment industry. Standing on a stage in front of people, I can't perform my best or be confident if I'm not sure — if I'm pulling at something [I'm wearing]." She also pointed out that most Hollywood stars engage in unhealthy methods to achieve ideal beauty standards. 
"I'm coming out like, 'OK, here's what's going on: No one's just naturally thin," she told Shriver. "Everyone's starving." 
Get the news everyone's talking about delivered straight to your inbox every morning by signing up for MicCheck Daily.