Here's How Sex Work Changed After the Government Shut Down Rentboy.Com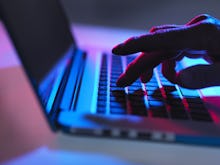 On a dry, sunny Monday in Portland, Mercutio* quit his job as a barista to follow his heart and become a full-time escort. 
The next morning, Aug. 25, 15 agents, a phalanx of law enforcement officers from the Department of Homeland Security and the New York Police Department, entered the home of Jeffrey Hurant, CEO and founder of Rentboy, the largest male-escort website in the United States. Authorities asked Hurant to remove his piercings, belt and anything else weapon-like on him to prepare for a stint in jail. Federal authorities also seized assets out of Rentboy's Union Square office and charged seven of its executives with promoting prostitution. 
Mercutio learned about the federal Rentboy raid via Facebook. The money he used to survive — to house himself, to pay his bills and to supplement his parents' income — was suddenly at risk. Only one day after deciding to become a full-time escort, his main advertising space had been deleted, the URL now a blank space.
Rentboy was a high-profile phenomenon. They hosted pool parties and dances and gave away annual Hookie awards to particularly stellar escorts. 
Arrangements made through Rentboy were between consenting adults. David Bimbi, professor of health sciences at LaGuardia Community College, City University of New York, drew a clear distinction between this business and other illegal activities. 
According to Bimbi, many of the arguments against sex work — that it promotes pimping, sex trafficking and exploits minors — "fly out the window" when it comes to Rentboy, which was a site where adults self-advertised to other adults."
Recently, Meryl Streep, Lena Dunham, Rashida Jones and other celebrities joined with the Coalition Against Trafficking in Women to decry Amnesty International's proposed recommendation to decriminalize sex work. The coalition claimed Amnesty's proposal would "advocate the legalization of pimping." Rentboy, Bimbi said, is a completely different situation. "If you wanted places known for trafficking or underage sex work, then that was the wrong place to go after." 
In fact, experts expressed concern over sex worker safety after Rentboy's demise. The site did make money through escort advertisements. However, it was also a crucial sex worker community lifeline. 
"People were engaged in a safe practice that promoted responsible sexual decision-making," Bimbi told Mic. "It promoted escorts taking care of themselves." 
Johns, or clients, could search profiles and either email an escort or converse using the system's built-in messenger. Rentboy was one of the safest modes of communication: No phone numbers were swapped, no personal information offered. 
Escorts paid Rentboy a monthly fee for advertising space. The website categorized escorts based on how much they paid. Escorts in popular cities also paid more. The strata were named after precious metals: gold, silver, platinum and diamond. A higher stratus landed an escort front-page status or real estate on a user's side banner ad. 
Danny Cruz, an escort with eight years tenure and director of the Los Angeles Sex Worker Outreach Project, told Mic that Rentboy offered classes to escorts on topics like preventing HIV, building websites, preparing taxes and dealing with law enforcement.  According to Cruz, Rentboy offered incentives like two weeks of free advertising just for showing up and learning. 
Rentboy's openness regarding what escorts were willing to give, and what clients were looking to receive, actually contributed to escorts' safety, according to Juline Koken, an assistant professor of health sciences at CUNY. She and Bimbi co-authored several chapters of the anthology Male Sex Work and Society. 
"When communication between sex workers and clients is shut down, it's bad for everybody," Koken told Mic. 
Without Rentboy's messaging benefits, Koken said, "A client and an escort can't clearly communicate, 'Here's what I want, here's what I'm willing to give you.'"
Though Mercutio was never physically assaulted, his first date did teach him what kind of Rentboy he wanted to be. "I felt a little bit objectified," he said. After that date, Mercutio was able to decide what kind of clientele he was willing to take. 
Bimbi said people are often uncomfortable recognizing that sex workers are often able to make their own decisions. More so, people ignore the natural aspects of subjugation and disrespect that comes with other jobs, like retail or service work. 
Bimbi spoke about his own years as a server in elite restaurants, where he was often treated poorly by management and customers alike. The ultimate irony, then, is that we expect such treatment for certain jobs but refuse to acknowledge that sex workers often do make choices about their quality of life and quality of work. That, Bimbi said, is part of the stigma of sex work.
Since the raids, many sex workers have organized to battle sex worker stigma. Many are new to political activism which means, according to Cruz, that some escorts have to be brought up to speed on the movement.
"This might be the first rodeo for male-identified sex workers, but it's not the first rodeo for sex work in general," Cruz told Mic. 
Cruz recently moved to part-time escorting in order to pursue more advocacy work. He sees other sex workers moving into the advocacy realm after years of eschewing the political aspect of sex work too.
"You see all these workers who have been so oblivious to the kind of social and societal issues until it slapped them in the face," he said. "And now it's like 'Hey, that's fucked up, I didn't realize the government could shut us down!'" 
In fact, Cruz has seen many other escorts end up just like Mercutio — out of money when they depended on Rentboy the most. Mercutio said he still makes about $2,000 a month, but that's only about two-thirds as much as he used to. 
Escorts themselves are not the only ones hurt by the shutdown, either: Rentboy employed 17 people full-time, all of whom lost their jobs on Aug. 25.
The company recently held a fundraiser in Rentboy's offices to supplement their online fundraiser. Anything in the office was up for grabs. Posters featuring actual escorts saying "I Love What I Do" sold for $280. Little rubber bracelets sold for $2. Hurant, Rentboy's CEO, was released on $350,000 bond after his arraignment in August. As he walked me through the garage sale-style fundraiser, he went through boxes and boxes of merchandise, he found three diamond-shaped, glass Hookie awards in a box hiding in a corner. He put two on the "For Sale" table and kept one for himself. Written on the glass diamond that he kept were the words "LIFETIME ACHIEVEMENT AWARD." 
Hurant held it up so I could read it. "I think I deserve this one," he said. 
On their own table were a series of Rentboy business cards. Escorts could tinker with a template and pay $19 for a box of 200 cards that advertised their specialties. On one, a man in a cutoff mesh top declared "Pro Pig, No Bull" to clientele. Another, with a man spread out like a mermaid near a pool, simply had a phone number beneath his purple thong. 
"We gave people the feeling that they were successful entrepreneurs, which was what we were about," Hurant told Mic. "We were about making people feel good about what they did." 
That the raid hit sex workers' wallets is a big part of the push to organize. But according to Conner Habib, adult performer and vice president of the Adult Performer Advocacy committee, sex worker organizing is not solely a labor issue but also one of sexual liberation. 
According to Habib, some advocates try to counter sex worker stigma by dropping mentions of sex. However, he said the sexual and labor aspect of the work should not be pitted against each other. 
"The reason sex workers are singled out for their job is sex negativity, but it can kind of be seen as giving ammo to the opposite side to say that it's about sex," he told Mic. 
That sex negativity often leads to undue hate toward sex workers. "The main reason why people hate sex workers is because they have not come to terms with sex in their own lives," Habib said. 
Bimbi agreed, "Nothing frightens our sexually repressed society more than a sexual person who doesn't let your views impact them in any way, shape or form." 
"There's nothing to it," Habib said. "That's what hate is. Burning, fueling itself through itself." 
Koken said this personal and cultural hatred, fueled by sex negativity, spurred the raid.
"I thought Homeland Security was supposed to be protecting us from terrorism, but instead it's being used to crack down on adults who are consensually engaging in sex that's being stigmatized because it's between two men and because it's for money," Koken said. "I don't think the American public pictured this is what our tax dollars would be used for when they made this department." 
Habib receives letters from admirers of his adult film work from all over the world — whether they're from middle America, small cities or elsewhere — thanking him for "doing what they are not allowed to do." 
"That's what sex workers do: They counter the distortion, the pain and suffering that the distortion of sex does to people and they transmute it to something positive," he said. "They make it not terrible." 
To hear Mercutio speak of his work is to understand what Habib means. 
"It's always beautiful," Mercutio said. "Pillow talk is the best part. If they come after 20 minutes, I still have an hour and 40 minutes to hang with you!"
Post-sex is when his clients are most vulnerable. "You're naked after sex and you smell each other and you're both proud of yourselves for performing this beautiful act. That's when the humanity really comes forth," he said. 
Viktor Belmont, a transgender male sex worker who advertised on Rentboy, reported similar feelings for his clientele. "I've learned to really adore my clientele," Belmont told Mic. "It makes me happy to know that they want to spend time with me." 
Belmont turned to sex work because employers couldn't tell his gender and wouldn't hire him. Where his body was a source of contention in other fields, sex work put those issues at ease. 
"Something that I thought was my biggest curse and cross to bear has become the single more important, positive thing in my life," he said. "I can see want in someone's eyes and I'm not afraid of it." 
Working together with his clients has rendered benefits for both parties. "I found strength and joy in my body through my clients, as well," he said. "We worked together to create something beautiful." 
Cruz and Mercutio both relayed stories of real love shared while escorting. 
"I do have one gentleman in particular and we kind of, not struggle, but we strive to keep a balance," Cruz said. He described himself and his client as foodies who enjoy time together at restaurants and Brooklyn Nets games. They've had conversations where his client has asked him to leave it all behind and be with him, but Cruz is career-oriented. 
"We have had some awkward conversations where I can tell he feels bad, he feels shot down. I try to make that up to him. I try to check on him," he said. "I'm still [his] friend, but I can't just be like 'Oh, I'm going to be with you and leave everything I know.'" 
Mercutio, a self-described romantic, has one client he considers his "Richard Gere." "He's just so handsome and so charming and he was one of my first clients, actually," Mercutio said. 
They have had similarly awkward conversations, but Mercutio has to keep his business face on. "Something has to happen when the timer goes off," he said. "There has to be a really safe switch for both parties to agree to, I guess." 
They tell each other "I love you," and mean it. "I definitely mean it," Mercutio said. "It's just the nature of our relationship. I get paid for engaging with him." 
Editor's Note: Some names have been changed to allow subjects to speak freely.