Why Is William Porter on Trial? First Officer in Freddie Gray Cases Heads to Court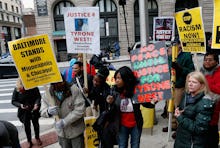 Potential jurors for Baltimore officer William Porter's murder trial in the death of Freddie Gray were questioned Monday. Porter is the first of six officers facing murder trials after being indicted by a grand jury in May.
The six officers being tried in Gray's death are Caesar R. Goodson Jr., Edward M. Nero, Garrett E. Miller, William G. Porter, Lt. Brian W. Rice and Sgt. Alicia D. White. Officer Caesar R. Goodson, who drove the police vehicle used in Gray's arrest, is being charged with second-degree depraved-heart murder. Porter, along with Rice and White, are being tried for involuntary manslaughter, second-degree assault and misconduct in office, all less-severe charges compared to Goodson's. Nero and Miller are also charged with second-degree assault and misconduct in office, among other charges.
Each officer has pleaded not guilty and is being tried separately, with Porter's jury selection being the first in the potentially lengthy process.
Gray was arrested on April 12 and died several days later while in police custody from a severe spinal cord injury. His death was part of a larger string of high profile cases across the United States involving unarmed minorities and police officers. 
April 27 turned into a night of demonstrations as protestors clashed with police across Baltimore after a funeral was held for Gray. Just days later on May 1, Baltimore State Attorney Marlyn Mosby announced the city's plans to formally prosecute the six officers involved in Gray's detaining. NPR's Jennifer Ludden reported following Gray's death that "[Porter] was called in as backup after Gray's arrest, and was present at several stops of the police paddy wagon in which the 25-year-old man was transported, handcuffed and in leg irons."
Porter, 26, who has served as a Baltimore police officer since 2012, grew up in the same neighborhood as Gray. 
"According to charging documents, Porter was present when Gray said he couldn't breathe," NPR reported. "The Baltimore Sun has reported that Porter told police investigators he informed the van's driver that Gray was in medical distress, though also wondered if he was faking it. Prosecutors say they are trying Porter first because he is a 'material witness' against at least two other officers."
Protestors stood outside the courthouse Monday as Judge Barry G. Williams began surveying upwards of 70 potential jurors. The judge told jurors the trial would end by Dec. 17, according to the Washington Post.
Correction: Nov. 30, 2015