How to Change Your Facebook Profile Picture to a Red Ribbon for World AIDS Day 2015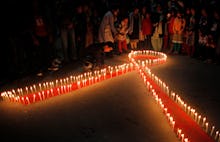 Tuesday marks World AIDS Day, an annual event designed to raise awareness and show support for the some 36.9 million people around the world live with HIV, 2.6 million of whom are children, according to Reuters.
"World AIDS Day is held on Dec. 1 each year and is an opportunity for people worldwide to unite in the fight against HIV, show their support for people living with HIV and to commemorate people who have died," reads an explainer via WorldAidsDay.org. "World AIDS Day was the first ever global health day, held for the first time in 1988."
Despite there being no cure for the disease, it is treatable. In 2001, about 1 million patients had access to and received antiretroviral treatment, compared to 15 million this year, Reuters reports. 
One way to show support for World AIDs Day is to sport a red ribbon. Head here to donate and find more information on how and where to get a ribbon. Tweaking profile pictures or penning posts is another option for activists looking to commemorate the day by showing their support online. 
An independent site, Twibbon, is one option for social media users looking to show solidarity. On World AIDS Day, Twibbon is offering a small red ribbon overlay for Twitter or Facebook profile pictures that sits in the bottom left corner of the photo. Twibbon has also composed two pre-set World AIDS Day posts which users can share via twitter or to his or her Facebook wall with one click. 
Here's a sample post designed to be shared on Facebook:
I'm raising awareness for World AIDS Day by adding a red ribbon to my profile. Join me and help remind the world that HIV and AIDS are ongoing epidemics.