'Real Rob' Is Coming to Netflix — Here's the Premiere Date, Cast Info and Reviews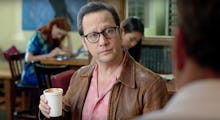 Comedian Rob Schneider's new original Netflix series Real Rob premieres on the streaming service Tuesday and has been billed as "an exaggerated yet brutally honest depiction of Schneider's real life," according to the Hollywood Reporter. Here's what to know about the show's cast and what the critics are saying.
Schneider's Louie moment: Schneider directed, produced and stars in the eight episode comedy series alongside his real-life wife, Patricia Azarcoya Arce. Arce, a Mexican television producer, co-wrote the series with Schneider. Comedians Jamie Lissow, Max Amini and actors Johnny Jenkinson and Adam Korson play regular characters in the series. The plot involves Schneider handling the trials and tribulations of his Hollywood life, and it transitions between Schneider's "life" and stand-up routines, a format that's similar to comedian Louis C.K.'s Louie, according to the Hollywood Reporter.
Schneider took up Real Rob after his similar 2012 CBS show Rob was canceled due to lack of viewers, Variety reported. "Eleven million viewers is not enough for them, it's enough for me," Schneider said in a statement on his website. "I'll do it myself." 
Lissow plays Schneider's incompetent assistant and Schneider and Arce's 3-year-old daughter Miranda Scarlett makes a few appearances, according to the New York Times. 
Real Rob reviews: Only three of the show's episodes were available to critics, the New York Times Mike Hale wrote in his less-than-average review. "Mr. Schneider seems to be trying to combine the Sandler-Schneider style of gross-out humor with the minimalist sensibility of current premium-cable and digital comedy, which might be interesting in theory but here has a numbing effect, like the long afterlife of Novocain," Hale wrote. "Still, Mr. Schneider has his hangdog charm, and when he's on screen by himself the show is tolerable," he wrote. "It's telling that the best scenes are the snippets of Rob's stand-up — this is Mr. Schneider's Louie moment — when he gets to do his bare-bones but oddly effective impressions."
Here's a sneak peek at the show: