How to Change Your Snapchat Filter to Red for World AIDS Day 2015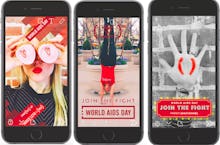 Snapchat is going red in honor of World AIDS Day 2015. The popular social media app is unveiling a transparent red filter in honor of the global day of awareness, and has partnered with both Red and the Bill and Melinda Gates Foundation to donate up to $3 million toward fighting AIDS. 
"When you use this filter, that will trigger a donation of $3 from the Bill and Melinda Gates Foundation," Red chief digital officer Chrysi Philalithes told Mic. "Those $3 can provide life-saving medicine to someone for up to 10 days."
To use the red filter, Snapchat users can simply take a photo or video as they normally would, and continue to swipe right until the red layer appears. The Snapchat red filter is free to use, and will be available for 24 hours beginning on Tuesday at midnight. 
Snapchat's move to go red follows last year's Apps for Red, when 25 of the most downloaded apps on the App store rolled out special Red experiences and gave 100% of their profits to the Global Fund. Other social media platforms like Twitter joined in Red's efforts to bring attention to the organization's causes on World AIDS Day when it changed its entire site to red in 2009. 
Currently, the epicenter of the AIDS epidemic is Sub-Saharan Africa, where nearly 25 million people live with HIV — 71% of total people living with HIV on the planet, according to Avert.org. 
As Philalithes explained, engaging young people in eradicating AIDS is at the very heart of Red's goals as a nonprofit. All of the organization's proceeds, including the $3 million Snapchat's filter is expected to generate — there are nearly 100 million active Snapchat users — will go toward treatment, prevention and care, according to the organization.
"Everything we know shows people want to make the world a better place," Philalithes told Mic. "Our way of doing it ... is giving people something they would normally be doing, and turn it into something they can use to join the fight against AIDS."
According to Red, the organization has raised $325 million to date. Check out the organization's website for further information on their efforts in the fight against AIDS on 2015's World AIDS Day.