Ke'Arre Stewart, Planned Parenthood Shooting Hero, Warned Clinic of Approaching Shooter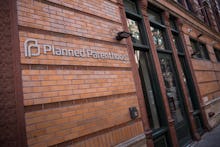 Ke'Arre Stewart, one of the three victims who was shot dead when gunfire erupted at a Planned Parenthood facility in Colorado Springs, Colorado, on Friday, is said to have acted heroically by re-entering the clinic to warn others that a shooter was on his way in, a move that cost him his life. 
Stewart, a 29-year-old Iraq War veteran and father of two, had stepped out of the Planned Parenthood building to find better cellphone reception, Stewart's brother, Leyonte Chandler, told CNBC. After he was shot, Stewart acted fast to spread the alarm. 
"I believe that's his military instinct, you know: Leave no soldier behind, leave no civilian behind, just leave no one behind," Chandler told CNBC. "So he ran back inside, trying to help out others. I don't know where he was at, as far as how many more breaths he had, but he knew. And before his time ran out I guess that was his main priority ... to help and save other lives."
Chandler added, "I believe my brother put his life on the line to prevent that. That's definitely heroic."
Here's Stewart both in and out of uniform:
Two other victims were killed when alleged gunman Robert Lewis Dear Jr., 57, reportedly opened fire in the family planning clinic on Friday. Jennifer Markovsky, a Hawaiian native and 36-year-old mother of two, was killed, as was a police officer, Garrett Swasey, 44, of the University of Colorado at Colorado Springs police force. Nine others were wounded in the attack.
This isn't this first time a branch of Planned Parenthood has come under attack in recent months. In August, there was a car fire at a facility in New Orleans, followed by a second incident of arson the following month at Planned Parenthood in Pullman, Washington. And on Sept. 30, and assailant attempted to burn a Planned Parenthood branch in Thousand Oaks, California, to the ground. 
Here's a collection of photos captured from the scene in Colorado.