Fabletics Takes a Big Swipe at Lululemon With a Bleep-Filled Commercial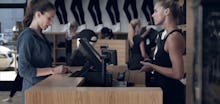 Commercials for women's activewear are usually full of women running or bending their bodies with huge, manic smiles on their faces. They always look so effortless, so full of endorphins, so sweatless, so pleasant. 
And they never, ever utter any words that end up getting bleeped. 
Well, the brilliant advertising minds behind the activewear brand Fabletics have just gone ahead and changed the game — and they're taking (what seems like) one giant swipe at their most powerful enemy in the process. 
In the two latest advertisements for Fabletics, a subscription-based company that was curiously co-founded by actress Kate Hudson and has had its fair share of problems, Lululemon and its many troubling practices are front and center, like being completely overpriced and sometimes sheer.
"In their most recent TV spots, Fabletics presents itself as superior to an unnamed (though obviously Lululemon-based) activewear brand for two reasons: 1) their clothes are less expensive, and 2) their clothes properly cover up pussies," writes Jezebel's Bobby Finger. 
The first ad, which debuted online last week, takes aim at the *~*mystery*~* activewear brand and its ridiculous surcharging. A woman approaches a register with a pair of black yoga pants. Immediately the price goes up $20. When the customer asks why, the cashier smugly announces, "Yes, our leggings are new and improved. They're black." 
Could this possibly be a swipe at Lululemon, the activewear giant that literally just debuted a special all-black collection for Black Friday? Well, that's for you to decide. (Mic has reached out to Fabletics for comment.)
The second 30-second TV spot is one that we've really come to love. In it, a woman tries to return a pair of see-through leggings she bought at the same hoity-toity sportswear store. The same high-bunned cashier from the "They're black" ad is snobbing it up again and this time won't believe the customer until she says: You can totally see my pussy.
Then, we're treated to seeing just how this woman came to realize that people could, indeed, see her pussy through her leggings. 
And just like that, the world of women's sportswear advertising is forever changed. 
Fabletics may have low prices and opaque pants, but the brand does have its own legion of haters. The subscription company, which also includes JustFab, is accused of deceiving customers with confusing fine print and making it nearly impossible to opt out of the monthly credit card charges.
But instead of defending themselves, the folks at Fabletics have clearly decided to take aim at a different target, and boldly so. 
h/t Jezebel
Get the news everyone's talking about delivered straight to your inbox every morning by signing up for MicCheck Daily.