James Deen Dropped From Kink.com Contract Over Sexual Assault Allegations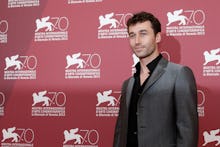 On Monday evening, the San Francisco-based BDSM porn studio Kink.com announced it would be cutting ties with adult performer James Deen, following allegations that Deen had assaulted at least three women. 
In a statement to SF Weekly, Kink.com said that it would no longer be featuring Deen on its website effective immediately:
For the Kink.com community, as well as the larger BDSM community, consent and respect are sacrosanct. Effective immediately, Kink.com will cease all ties with James Deen, both as a performer and a producer. 
The studio's decision to sever ties with Deen comes on the heels of public sexual assault allegations from Deen's ex, fellow adult performer Stoya. On Nov. 28, Stoya alleged in a tweet that Deen had sexually assaulted her while they were dating:
Since then, at least two other adult performers have come forward alleging that Deen assaulted them as well. In an essay for the Daily Beast, adult performer Tori Lux alleged that Deen hit her in the face and head five or six times while they were working together on a film set. Adult performer Ashley Fires also accused Deen of trying to sexually assault her in a shower on another film set. 
"The only time I'd ever seen this guy, he walked into the green room at Kink [Studios], picks up Jessie Cox like a caveman, grabs her by the hair, and takes her off somewhere... and I can only imagine," Fires told the Daily Beast.
Kink.com is not the only adult industry organization to publicly disavow Deen. On Monday, the Adult Performer Advocacy Committee, a labor group representing adult film stars, released a statement saying that Deen had issued his resignation as the committee's chairperson.
"APAC recognizes the seriousness of the statements made by performers in the community and that they indicate a major conflict between a board member and other members of the organization," the organization said in a statement to the industry trade publication Xbiz. 
John Stagliano, the founder and president of the porn studio Evil Angel, also issued a statement saying that his company was cutting ties with Deen. 
"In light of the recent accusations against James Deen, Evil Angel today has decided not to sell any newly created scenes featuring Deen," Stagliano said in a statement emailed to Mic. "While our company presents what is consensual and exploratory about aggressive and rough sex, these accusations are of a nature so contrary to our company values that we feel it necessary to suspend the sales until more information is available."
For his part, Deen has denied the sexual assault allegations on social media. 
Dec. 1, 12:50 a.m. This story has been updated.