YouTube Star Sam Pepper Takes Prank Too Far and Fan Outrage Is Very Real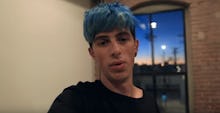 After declaring war on ISIS and releasing the names of KKK members in November, hacktivist group Anonymous has come out swinging against YouTube star Sam Pepper, who has once again landed at the center of a scandal. Pepper, a YouTuber from the U.K. with upwards of 2 million subscribers, invited criticism on Tuesday for a prank video that some say went too far. The stunt, which is titled "Killing Best Friend Prank," stars Pepper and Vine duo Sam Golbach and Colby Brock. Anonymous responded to the video by threatening Pepper unless he removes the footage from the Internet.
"We've been notified of a sick, disturbing video uploaded by @sampepper," reads the first Tweet from Anonymous. "Yet Again, he uses violet abuse to garner subscribers." The group's response continued:
In the controversial video released on Tuesday, Brock helps Pepper orchestrate a kidnapping and his own staged murder, while Pepper films Golbach's reaction to the fake death of his co-star and best friend of five years. 
"I met these two Viners a couple of weeks ago and I've arranged to meet with them about filming a video with them," Pepper says in an introduction to the video. "Colby is in on the prank, and Sam is getting pranked. Let's see how he reacts to his best friend of five years being killed in front of him."
Published on Sunday, the video had wracked up more than 2 million views, and north of 250 thousand dislikes. Here's the video:
The prank has sparked outrage from viewers. "You are a horrible, sick human being," wrote one YouTube commentator. "Don't you know what that could mentality do to a person?"
Others migrated to Twitter to express their disgust. 
A petition to force Pepper to deactivate his YouTube account has also begun to circulate:
In response to the criticism, Pepper has issued no formal response except to retweet a note written by Golbach. In the note, the Vine star says the prank didn't traumatize him and that he believes the intended takeaway involves focusing on true friendships.
"Life is short," Golbach writes. "Appreciate every moment. And especially, treasure your friends and make sure they know how important they are to you. "
"We realize this isn't a video to make people laugh, instead it was supposed to show a true friendship," he concludes.
This isn't the first time Pepper has come under fire for a video he packaged to the public as a "prank." Last year, the YouTuber was criticized for a video he filmed titled "Fake Hand Ass Pinch Prank," in which Pepper used a fake arm to sexually assault women on the street. Pepper says the video participants gave consent prior to filming, while others accused pepper of using women as props. The YouTuber retaliated by replicating the prank with women using prosthetic arms to grope men.
"There are things you just don't do," said YouTube star Mazzi Maz of the debacle, according to the BBC. "YouTube is a place where you can get ripped to shreds. We are meant to push the boundaries but you need to know what's right and what's wrong. A sexual predator isn't a good look."
Shortly after the 2014 video scandal, the controversy worsened when Pepper was accused of sexual assault. Pepper has not been charged with sexual assault and his YouTube account has not been permanently suspended. 
Dec. 1, 2015, 12:00 p.m. Eastern: This story has been updated.