David Letterman's Beard is The Best Part of His Retirement. Here's The Internet Reaction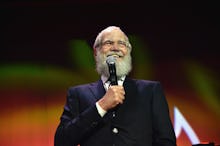 They say that retiring gives you the time and freedom in life to get done whatever it is your heart desires. For some, that may be spending more time with loved ones, while for others retirement could mean traveling the world. For former late night talk show host David Letterman, retirement meant growing a Godly beard and sporting it for the world to admire.
Letterman enjoyed a 33-year legacy as the host of the Late Show, growing a reputation and brand outside of the show as the clean-cut, gentleman-next-door. With his wit and charming banter, Letterman quickly became the quintessential face of late night television. 
But all that is behind the 68-year-old TV personality now, and the only thing in front of him is his beard — and all the time in the world. 
The internet, which quickly takes note of just about everything, has been having fun with Letterman's new look since he revealed it at its current length in late-September:
Twitter user @JaimeNegronCPA — who also sports a rather Godly beard — gave Letterman the non-emotional, bearded man's stamp of approval:
Does anyone else think Letterman looks like a hipster Brooklynite on his way to pick up soy milk and locally raised chicken from the bodega?
Most people were left in awe, wondering how they can ever amount to something as great as Letterman's legacy, or his beard:
Letterman's beard has even been noticed by ZZ Top guitarist Billy Gibbons, who gave the late show host's beard a 10/10 ranking to a TMZ reporter.