Gorillaz New Album Is Coming in 2016. This Is Everything the Band Is Telling Us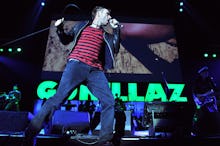 It's been four years since a studio record surfaced from alt rock/hip-hop act Gorillaz, the "virtual band" from co-creators Damon Albarn and Jamie Hewlett that originated in Essex, England, in 1998. And it's been 14 years since the band first reached a mainstream audience with its debut record, 2001's self-titled LP. That album made history when, after selling north of 7 million copies, it earned Gorillaz a place in the Guinness Bock of World Records as "most successful virtual band." Fans will be pleased to know that Gorillaz creators have confirmed new material is underway and will be released in 2016.
"That's next year," Hewlett said in an Oct. 15 interview with DIY, when asked about another record from Gorillaz. "I'm working on it at the moment, and it's going very well. I'm very excited. I don't want to say too much about it, but I'm at that phase of experimentation."
Hewlett, a standalone artist in his own right, is the creator behind the band's graphic landscape of the digital band's four fictional members: 2D, Russel Hobbs, Murdoc Niccals and Noodle.
Those who came of age around the time Gorillaz began to rise in popularity would remember Gorillaz's singular and eerie aesthetic well:
As further proof the duo is working toward releasing new material, Hewlett shared sketches and redesigns of some of the virtual bandmates via Instagram:
The last studio album Gorillaz released was 2011's The Fall. Yet Albarn, who is also the lead singer for the on-again off-again British alt-rock band Blur, has kept the musical fires stoked throughout the years. In 2014, Albarn released a solo record titled Everyday Robots, the first that was credited entirely to him, though the musician has been wildly prolific via collaborations. At the time of its release, Everyday Robots earned a 7.0 rating from Pitchfork. 
"Albarn has often been compared to English writers like Ray Davies but has always seemed more like Paul Simon, a heavy-hearted and moody person who nevertheless manages to bring a room together," Pitchfork reviewer Mike Powell wrote when Everyday Robots surfaced. 
No official release date has been set, and the interview with DIY is the most-cited reference to confirm that work is being done to get new material off the ground. In the meantime, fans are hungry for details.
Check back here for updates on the album as they're released.