Kylie Jenner's Wheelchair Magazine Cover May Raise Some Eyebrows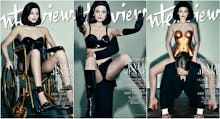 Kylie Jenner is no stranger to fashion magazines, but this might be a first even for her: posing in a wheelchair.
The youngest Jenner sister is the cover star of Interview magazine's December/January issue, and the styling is eye-catching from top to bottom. The 18-year-old is dressed and made up fembot-style, with plastic-looking makeup, shiny Latex-esque clothing and an especially blank stare. 
In a few photos, she's also seen sporting assless chaps, exposing her bare butt and, of course, taking a spin in a golden wheelchair. 
The photos, snapped by fashion photographer Steven Klein, clearly poke fun at the plastic, overly-manicured and airbrushed look Jenner and her sisters are known for. Jenner doesn't mind taking aim at that picture-perfect image. In one of the photos, Jenner is depicted lying on her back, eyes shut, in an oversized wooden box, resembling a literal doll.
What's likely to be more buzzed about, however, are the more risque photos, including the ones that reveal Jenner's bottom. As for the wheelchair photos, a few readers may raise an eyebrow. As Nylon notes, "Her being normally abled in a chair is probably hurtful to some people who HAVE to use them, for whom it's not an artistic/fashion choice." 
But fashion does have a history of mishandling issues of representation for people in disabilities. Up until recently, the industry essentially didn't represent them at all. 
"In general there is real cultural invisibility when it comes to disabled people – in fashion, on TV, in film, in politics, in writing," Cat Smith, a doctoral researcher at London College of Fashion, told the Guardian. 
That's especially troubling for an industry that's aimed at presenting images of beauty that others look up to. "Disability is definitely not represented, despite the millions of people living with disabilities throughout the U.K. We buy the products, brands and magazines, so why aren't we represented?" Gemma Flanagan, an ambassador for Models of Diversity, told Glam Monitor.
The occasional castings of a few token models are often viewed in a "quite patronizing" way, said Smith in the Guardian, treated as a fleeting "feel good moment." 
A cover like Jenner's may not help matters, considering there are plenty of actual wheelchair users who feel overlooked by fashion and beyond. (Mic has reached out to Interview for comment.)
Interestingly, Jenner recently used the #IAmMoreThan hashtag on Instagram to highlight individuals who've overcome bullying, including a young woman who uses a wheelchair. Audrey the Artist, who uses a wheelchair, posted a message that was regrammed by Jenner just this week, saying, "Being different physically is complicated, you have to deal with loads of shits, and still keep smiling. I want to say to anyone who feels different, lonely or just down, #keepgoing."
Dec. 1, 2015, 11:22 a.m.: This post has been updated.
h/t Fashionista
Get the news everyone's talking about delivered straight to your inbox every morning by signing up for MicCheck Daily.