Radiohead's Thom Yorke Says YouTube Steals Art "Like Nazis Did"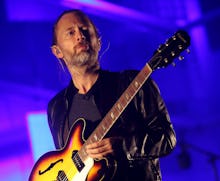 Radiohead frontman Thom Yorke is not afraid to sling some mud at the titans of the music industry. In October 2013, he famously called Spotify the "the last desperate fart of a dying corpse." He's been working to undermine that industry since, withholding his new music from streaming platforms and releasing through experimental channels like BitTorrent. 
Tuesday, Yorke shared his views on another content service with comparable inflammatory language. Speaking with  the Italian paper La Repubblica, as translated by the Guardian, he attacked YouTube, saying the service has "seized control" of music and art in the same way "the Nazis did during the second world war." However, he didn't just single out the Axis powers. "Actually, it's like what everyone was doing during the war, even the English – stealing the art of other countries," he said. "What difference is there?"
The shot heard round the world: It seems Yorke's beef with YouTube centers upon the pitiful returns the streaming service provides to artists, and the double standard with which the platform approaches its advertising campaigns.
"They put advertising before any content, making a lot of money and yet, artists are not paid or are paid small sums, and apparently this is fine for them [YouTube]," Yorke said.
"The funny thing is that YouTube has said 'that's not fair' [to use AdBlocker]. You know? They say it's not fair — the people who put adverts in front of any piece of content, making a load of money, while artists don't get paid or are paid laughable amounts — and that seems fine to them. But if [YouTube] don't get a profit out of it, it's not fair."
When asked for how he finds new music to work on his critically acclaimed dance moves, he says he choses Boomkat over YouTube.
Although YouTube is the most popular way for kids to listen to music, it hasn't gotten the same public flack that Spotify and Apple Music have taken from artists like Taylor Swift and Joanna Newsom. Jack White weighed in on YouTube during a May post on his Third Man Records site. 
"Whoever started the model of making a website that gets paid by big advertisers (YouTube) and does not pay that money to the artists generating the interest," he wrote, seeming to agree with Yorke's estimation. "Makes no sense to an artist trying to survive."
Artists Ellie Goulding and One Direction also tried to experiment with alternatives to YouTube earlier this year by not submitting their latest singles to the service. Yorke sees a lot of promise in these kinds of experiments. In his La Repubblica interview, he describes his Tomorrow's Modern Boxes album shared through BitTorrent as a "successful" one.
"I don't have the solution to these problems," Yorke said. "I only know that they're making money with the work of loads of artists who don't get any benefit from it. People continue to say that this is an era where music is free, cinema is free. It's not true."