Thanks to 3-D Printing, the Visually Impaired Could Finally Experience Famous Art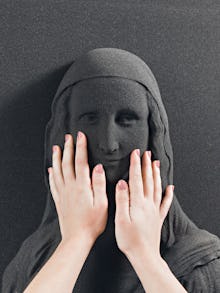 Famous artwork is usually described visually. From Mona Lisa's smile to the swirls of "Starry Night" to Monet's lilies, the experience of enjoying a renowned painting is often reserved for those who can see it.
Unseen Art wants to flip that notion on its head. Currently raising funds through an Indiegogo campaign, the Finnish nonprofit aims to develop a software platform that would be accessible to both artists and people with visual impairment, of which there are about 285 million around the world. 
Using the platform, artists would be able to scan photos of famous artworks and recreate them for 3-D printing purposes. The blueprints would be open source — in other words, free and unrestricted — and anyone with access to a 3-D printer could then use the blueprints to (literally) get their hands on their very own masterpiece.
Unseen Art was dreamt up by Marc Dillon, who previously worked for an independent mobile OS maker but decided to quit after 25 years because he wanted to give back. After launching Nov. 12, the Indiegogo campaign has thus far raised $3,150 of its end goal of $30,000. The campaign will run until Dec. 18.
"Creating equal access for art globally is our passion and goal," Dillon said in a press release. "There are many people in the world who have heard of classical artworks their whole lives but are unable to see them. Now they can experience them for the first time and create their own impressions and opinions."
"I think that it's amazing that an artist that's in London can create a model — in this case it's the "Mona Lisa" is the one we're starting with — and then there's a guy in Texas who's printing it out," he explained to TechCrunch. 
In a promotional video, a visually impaired person named Riikka is given a 3-D printed model of the "Mona Lisa" for the first time. "Hi, Mona Lisa!" she says, according to the video's translation. "There's a face here! And I guess it's her hair that's coming down from the sides here ... It doesn't really come across that she's really beautiful or anything. But I don't usually judge people by the prettiness of their faces."
It's not the first effort to make art accessible for all. As Hyperallergic pointed out, a number of museums, including Madrid's Museo del Prado, the Museo Nacional de San Carlos in Mexico City, Paris's Louvre, Florence's Uffizi Gallery and the Denver Art Museum have exhibitions that include touchable art. 
There's also another crowdfunding campaign in the works with similar objectives to Unseen Art. Over at Kickstarter, 3DPhotoWorks wants to "make the world's greatest art and greatest photography available to blind people at every museum, every science center and every cultural institution." Unlike Unseen Art, however, 3DPhotoWorks is not open source.
"One of the biggest differences is that we're trying to do this to build a non-commercial platform," Dillon told TechCrunch of the competing project. "The classical artworks of the world are something we believe everybody should have accessibility to and it should be free. So we have to build something in order to do that."
If everything goes according to plan, the software platform will allow for the visually impaired to experience artwork in both gallery shows and their own homes. The crowdfunding campaign, for its part, will include a competition to host the very first Unseen Art gallery show.
"Art touches people, art creates emotional responses, gives people inspiration, different perspectives, and insight into other cultures and historical periods," Samuli Ollikainen, another member of the Unseen Art team, told Hyperallergic. "Art should be accessible to everyone, and everyone should have their own opportunity to experience it for themselves."