Movies Coming Out in December 2015: Full List of Every Movie Release Date in December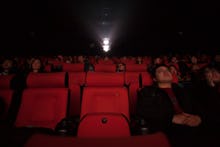 The month of December will see no shortage of long-awaited theater releases, perhaps most notably Star Wars: The Force Awakens. The release of the interstellar epic from J.J. Abrams, who is also the director behind the Star Trek movies and the supernatural castaway TV series Lost, has had fans on the edge of their seats for months. Also out this month is the highly anticipated comedy Sisters, starring Tina Fey and Amy Poehler, and produced by Fey and Jay Roach (Austin Powers, Meet the Parents).
Game of Thrones fans take note: Kit Harington will star in the upcoming Mission Impossible film, slated for release on Dec. 4. Another noteworthy release this month is The Hateful Eight from Quentin Tarantino (Pulp Fiction, Inglourious Basterds, Django Unchained).
The four major film release dates to watch out for are Dec. 4, 11, 18, 23 and 25, according to IMDb. Click through for more, including plot summaries and cast, for each film release this month. For showtimes, locations and tickets, head to Fandango.  
Friday, Dec. 4
Friday, Dec. 11 
Friday, Dec. 18 
 Alvin and the Chipmunks: The Road Chip
Wednesday, Dec. 23 
 The Big Short (national release)
Friday, Dec. 25 
Here are a few select trailers from some of the biggest movies this month: