This Is What Chicago Can Learn From America's Other Police Accountability Taskforces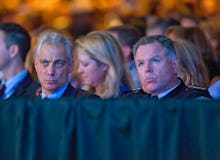 Chicago Mayor Rahm Emanuel announced the formation of a police accountability task force Tuesday. 
In a Monday press release, the mayor said the five-member body — which he will appoint, and which will be advised by former Massachusetts governor Deval Patrick — "will review the system of accountability, oversight and training that is currently in place for Chicago's police officers," according to the Chicago Tribune.
"The shooting of Laquan McDonald requires more than just words," Emanuel said in a statement. "It requires that we act."
The announcement came one week after a Cook County judge compelled the city to release video footage of the Oct. 2014 killing of 17-year-old Laquan McDonald, which was captured on a patrol car dash camera but kept under wraps for 13 months. 
McDonald's killer, Officer Jason Van Dyke, shot the teenager 16 times in front of multiple witnesses but was charged with first-degree murder only last week. The sluggish circumstances of the release have since drawn accusations of an administrative cover-up. Van Dyke was released from jail Monday after posting ten percent of his $150,000 bail. 
Mayor Emanuel also fired Chicago Police Superintendent Garry McCarthy on Tuesday, in response to calls from the public and some officials to have him removed. Meanwhile, the video's release has set off a week of protests in Chicago, as questions remain regarding next steps.
"What we've witnessed in this and other instances is a fundamental breakdown in the ability of police to protect the public, and the public's faith in CPD." — Ed Yohnka
Jason Van Dyke is the first Chicago police officer to be charged with first-degree murder for an on-duty incident in 35 years, a fact that has elicited doubt Emanuel's task force will yield substantive results.
"Our first thought is that this [task force] can't be a substitute for what's really needed here, which is a full-scale federal investigation of the Chicago Police Department with subpoena power," Ed Yohnka, Director of Communications and Public Policy at the ACLU of Illinois, told Mic. "Whatever this task force does, what we've witnessed in this and other instances is a fundamental breakdown in the ability of police to protect the public, and the public's faith in CPD."
Others echoed Yohnka's skepticism. "Appointing a committee to look into an issue is a tried-and-true tactic elected officials long have employed to buy time and breathing room when faced with a scandal or crisis," wrote the Chicago Tribune. "[It] gives Emanuel something else to talk to reporters and the public about other than the ... video."
Indeed, it's unclear how effective police accountability task forces in other cities have been. An Inspectors General was appointed in Los Angeles, New York City and New Orleans have uncovered systemic abuses and identified problems that shoddy or nonexistent data collection had rendered invisible over the past decade. Seattle has a 15-member community police commission, appointed by the mayor, to review oversight and accountability processes. 
However, "there is no clear evidence that these oversight bodies alone are effective in obtaining meaningful reforms," according to a Justice in Policing report and toolkit from the Center for Popular Democracy and PolicyLink, both policy advocacy organizations.
Yohnka suggested to Mic that a more tried route to change in Chicago would require a U.S. Department of Justice investigation. "That confidence needs to be restored, that someone in power is actively looking into this," he said. "But it's systemic. This issue pervades multiple superintendents and multiple people in terms of leadership in the department. It requires a systemic approach to accountability, transparency and how law enforcement operates."
One such DOJ examination of the Ferguson, Missouri, Police Department published in March laid bare a hotbed of racist law enforcement practices that yielded reform suggestions amidst a national conversation around racism and policing. This is not a unique phenomenon. According to the Washington Post, the DOJ has launched 67 investigations into police departments across the U.S. over the past decade, 24 of which were closed without reform agreements, and just 26 of which resulted in "binding agreements tracked by monitors."
Results have been mixed. The long-term effect of these agreements are not tracked by the DOJ, making it hard to tell if they actually work. 
"We don't tend to evaluate .?.?. after we have left," Vanita Gupta, principal deputy assistant attorney general of the department's civil rights division, told the Post. "There's a limit to how much we can .?.?. remain engaged with a particular jurisdiction given our limited re­sources."
"The reality is, we're kind of past the point of cosmetics here." — Ed Yohnka
This leaves little precedent for a positive outcome in Chicago — a city with a staggering recent history of police abuse. Over the past decade, the city has spent $500 million on legal costs and settlements stemming from law enforcement misconduct, including $5 million paid out to Laquan McDonald's family in April. 
That same month, Chicago set up a $5.5 million fund to compensate victims of former-CPD Commander John Burge, who tortured and sexually abused more than 100 mostly black arrestees during his tenure with the department. The case of Dante Servin, an off-duty officer who fired into a crowd and killed 22-year-old Rekia Boyd in 2012, was also dismissed in April because state's attorney Anita Alvarez — whose office has a history of questionable conduct — charged him with a crime the judge deemed too  severe for what he did.
The McDonald case has also been plagued by scandal, including allegations that police officers tampered with surveillance tape that captured the shooting from a nearby Burger King, resulting in 86 minutes of footage gone missing.
Some have suggested the mere appearance of police accountability can have positive effects, lending legitimacy to law enforcement bodies that had formerly lost the trust of their communities. But in the case of Chicago, it may be too late for that. 
"The reality is, we're kind of past the point of cosmetics here," said Ed Yohnka. "There's been this fundamental breakdown in terms of trust. Whether we're talking the Burge incidents or the millions of dollars in payouts to victims, there really needs to be a much broader look at what is going on."