December Book Releases 2015: List of the Biggest Books Available in December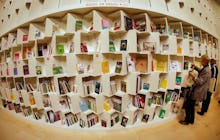 It's about that time of year when colder weather means many people would rather cozy up with Netflix or maybe a good old-fashioned book (probably on a tablet) than go outside. A variety of books, including one about the worst Tinder dates and the latest romance novel from writer Abbi Glines, are being released this December. Here's a list of the biggest books to hit shelves this month. 
Tinder Nightmares, by the team behind the sarcastic Instagram account Unspirational, is a collection of the simultaneously best and worst Tinder date experiences that have been curated on the author's viral Instagram account with the same name. Glines' latest novel, The Best Goodbye, is the latest in her New York Times bestselling romance novel series. Tinder Nightmares and The Best Goodbye both hit shelves Dec. 1.
Here's a list of December's biggest book releases, per Publishers Weekly. (Disclaimer: An overwhelming number of diet books will be released conveniently around Christmas and just in time for New Year resolutions.)
Dec. 1: 
Martha Stewart Weddings by Martha Stewart Living editors (Clarkson Potter, $60)
Your Beauty Mark: The Ultimate Guide to Eccentric Glamour by Dita Von Teese (Dey Street Books, $40)
Tinder Nightmares by Unspirational (Abrams Image, $14.95)
A Dictionary of Mutual Understanding: A Novel by Jackie Copleton (Penguin Books/A Penguin Paperback Original, $16)
Age of Reinvention by Karine Tuil (Atria Books, $27)
The Best Goodbye by Abbi Glines (Atria Books, $15)
Evil Mind by Chris Carter (Emily Bestler Books/Atria Books, $25)
The Elfstones of Shannara (The Shannara Chronicles), TV tie-in, by Terry Brooks (Del Rey, $15)
The Wishsong of Shannara (The Shannara Chronicles), TV tie-in, by Terry Brooks (Del Rey, $15)
Precious Gifts by Danielle Steel (Delacorte, $28)
Dec. 8: 
Ashley Bell by Dean Koontz (Bantam, $28)
Tom Clancy Commander-in-Chief: A Jack Ryan Novel by Mark Greaney (Putnam, $29.95)
Dec. 15: 
Bone Labyrinth: A Sigma Force Novel by James Rollins (William Morrow, $27.99)
Younger Next Year: The Exercise Program by Chris Crowley and Henry S. Lodge (Workman, $10.95)
Dec. 22:
Extreme Transformation by Chris and Heidi Powell (Hachette Books, $27)
6-Week Blood Sugar Diet by Michael Mosley (Atria Books, $27.99)
Maybe Not by Colleen Hoover (Atria Books, $9.99)
First Touch by Laurelin Paige (St. Martin's Griffin, $14.99)
Dec. 27:
Wake of Vultures by Lila Bowen (Orbit, $25)
Dec. 29:
The Forgotten Soldier by Brad Taylor (Dutton, $26.95)
Thinner in 30: Small Changes That Add Up to Big Weight Loss in Just 30 Days by Jenna Wolfe (Grand Central Life and Style, $28)
The Negative Calorie Diet: 10 All You Can Eat Foods, 10 Hard to Lose Pounds, 10 Life-Changing Days by Rocco DiSpirito (Harper Wave, $27.99)
Best and Lightest by Food Network Magazine editors (Clarkson Potter, $25)
Always Hungry? Conquer Cravings, Retrain Your Fat Cells and Lose Weight Permanently by David Ludwig (Grand Central Life and Style, $28)
The Song of Hartgrove Hall by Natasha Solomons (Plume, $16)
The I Quit Sugar Cookbook by Sarah Wilson (Clarkson Potter, $27.50)
The Undoing by Averil Dean (Mira, $15.99)
Happy Gut: The Cleansing Program to Help You Lose Weight, Gain Energy and Eliminate Pain by Vincent Pedre (William Morrow, $25.99)
The Age Fix: Insider Tips, Tricks and Secrets to Look and Feel Younger Without Surgery by Anthony Youn (Grand Central Life and Style, $27)
Fat Dad, Fat Kid by Shay Butler (Keywords Press/Atria, $16.99)
The Hunting Trip: A Novel of Love and War by William E. Butterworth, III (Putnam, $28.95)
The Shred Power Cleanse: Eat Clean. Get Lean. Burn Fat by Ian K. Smith (St. Martin's Press, $22.99)
Correction: Dec. 1, 2015