Saudi Arabia Is Trying to Sue Twitter User, Unleashing Middle-Earth Level Troll Storm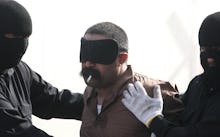 Saudi Arabia, long known for its draconian legal system and a chronic shortage of qualified executioners, is now threatening to bring justice to a Twitter user — with decidedly less gore.
The kingdom announced via a major state-aligned paper on Wednesday that it would sue an individual user of the popular social network who tweeted that the country's treatment of Palestinian poet Ashraf Fayadh was "ISIS-like," Reuters reported. Fayadh had recently been sentenced to death for the crime of apostasy, or leaving the Muslim religion, which is punishable by death in Saudi Arabia — and yes, in the Islamic State group as well.
The punishment follows the traditional Muslim text that states, "Whoever changed his Islamic religion, then kill him," first set down in the Sunni text Sahih al-Bukhari. As a reward for following this traditional and literal interpretation of Islamic law, Saudi Arabia was recently awarded the chairmanship of an important United Nations human rights panel. 
"The justice ministry will sue the person who described ... the sentencing of a man to death for apostasy as being 'ISIS-like,'" a source in the justice ministry told the newspaper Al-Riyadh, according to Reuters. The original offending tweet was not identified.
"Rather than attacking Twitter users, the Saudi authorities should stop carrying out the terrible abuses that lead to these comparisons," Maya Foa, head of the death penalty team at the U.K.-based human rights organization Reprieve, told Mic. "It is Saudi Arabia's brutal use of the death penalty that is the problem here, and which is provoking such revulsion. The government must urgently examine its own actions."
Since news of the lawsuit became known, Twitter users have responded with an avalanche of derision for the kingdom, using the hashtags #SueMeSaudi and #SaudiArabiaIsISIS. And from the looks of things, King Salman and his lawyers are going to be swimming upstream.