Iraq Looks to Dethrone Dubai as Site of World's Tallest Building — By 1,000 Feet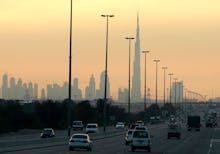 Since 2009, Dubai's Burj Khalifa has held onto the title of world's tallest building, standing at 2,722 feet. Other countries are always vying for the number-one spot, and now Iraq is the latest to throw their hat into the ring with a structure that would reach 3,780 feet.
Called "The Bride," the glass skyscraper is designed to tower nearly two-thirds of a mile above Basra, and would consist of four conjoined towers boasting rooftop gardens and a sweeping "veil" that would fuel the building using solar energy while keeping the lower floors cool. The design came from AMBS Architects, a firm with a stake in rebuilding Iraq—they also have plans to build Baghdad's first new library since the '70s.
But while Forbes announced "Here Comes 'The Bride'" in a headline, history has shown that it's not uncommon for buildings this ambitious to never leave the blueprint phase.
In July 2013, CNN reported that China was breaking ground on the 2,749 Sky City, the building they hoped would dethrone the Burj Khalifa. Since then, the structure designed to jut more than a half-mile out of the earth has been put on hold until officials conduct safety inspections and builders obtain additional permits.
So will the skyscraper be always a bridesmaid never The Bride? Iraq hopes not. But if they're set on edging out Dubai, they might want to consider jetpacks.