Anohni Is Releasing an Album in 2016 — Here's Everything We Know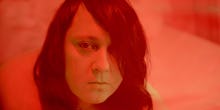 British artist Anohni has a new album in the works, and it may arrive as early as spring, the singer told fans on a Yuku message board in October. The new release, which will be titled Hopelessness, will be the the first album from the artist under the name Anohni. She previously performed as the lead singer of Antony and the Johnsons. 
Anohni first announced the new album back in February in a post on her Facebook page. "It's an electronic record with some sharp teeth," Anohni wrote. "We are mixing it now."
The upcoming album follows 2010's Swanlights, which was Anohni's fourth studio album with Antony and the Johnsons. 
What we know about the album: Hopelessness, which is being co-produced by Oneohtrix Point Never and Hudson Mowhawke, will be a departure from Anohni's earlier style. "The record is as different as could be from my previous work," she told fans on Yuku. "It is a dance/experimental electronic record with quite a dark thematic undertow. It is an album I felt very compelled to produce."
On Monday, Anohni released "4 Degrees", the first new track off Hopelessness. The lead single debuted "in solidarity" with the Climate Change Conference in Paris, Anohni announced in a Facebook post on Monday.
Anohni addressed the activist message behind "4 Degrees" in an interview, explaining "I have grown tired of grieving for humanity, and I also thought I was not being entirely honest by pretending that I am not a part of the problem. '4 Degrees' is kind of a brutal attempt to hold myself accountable."
Anohni tour dates: Anohni has slowly been rolling out dates for a Hopelessness tour next summer. So far, the schedule includes performances in Turin, Italy, Ostrava, Czech Republic and Barcelona, Spain.
There's no official release date set for Hopelessness, but fans can expect that, with concerts kicking off in early July, Anohni will have to deliver on her promise to get the new album out in the spring.