Cara Delevingne Joins Cast of 'Ab Fab' Movie with Kate Moss — Here's Latest on the Film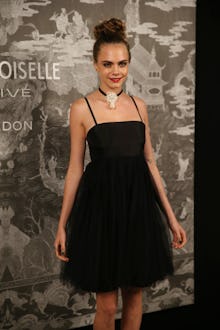 Model-turned-actress Cara Delevingne has joined the already stacked cast of fashion moguls for the upcoming British comedy film Ab Fab: The Movie, based on the BBC television series Absolutely Fabulous. 
The movie, set to be released in July 2016, is based on the cult classic, a satirical show about two obnoxious drug-abusing female besties — Edina and Patsy — which ran from 1992 to 2012. Jennifer Saunders and Joanna Lumley will return as the iconic duo. Former supermodel Kate Moss, former Hermes designer Jean Paul Gaultier and fashion designers Stella McCartney and Anya Hindmarch will all appear in the movie, New York magazine reported. The Telegraph reports that Delevingne is the latest addition, and that she had a "ball" while filming.
"I am thrilled and excited to finally start filming," Saunders said in a statement, E! News reported. "We are all taking our medication and hoping for the best."
According to the Telegraph, Delevingne desperately wanted a role in the film and may have locked in the part thanks to her godmother, Joan Collins, the St. Tropez Lonely Hearts Club author who's also set to make an appearance. Moss was recently spotted filming a scene for Ab Fab, the Telegraph reports, who apparently goes missing in the plot as rumors spread that she's been killed. 
Fox Searchlight and BBC Films are involved with the movie and Saunders wrote the script. The cast is currently filming, set to shoot in the United Kingdom and South of France, E! News reported. "Ab Fab on the big screen is a treat we've been hotly anticipating at BBC Films and we're very proud to join Jennifer and her terrific team for this delicious reunion," Christine Langan, head of BBC Films, said in a statement, E! News reported.