'Finding My Father' on Oxygen: Premiere Date, Episodes and Plot Details for New Series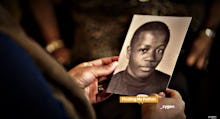 Finding My Father, Oxygen's new series that documents the stories of 16 young people on a quest to track down their biological fathers, premieres Wednesday. 
"The brave young people undertaking this transformative experience on Finding My Father face endless unknowns, high emotions and challenging obstacles," Rod Aissa, executive vice president of original programming and development for Oxygen Media, said in an October statement about the series. The eight-episode series kicks off on Wednesday at 9 p.m. Eastern.
"Even when the outcome is far from what they expected, the risks are worth knowing where they come from," Aissa said in the statement. 
Each episode features two people's stories. Wednesday's episode, titled "Episode 1 – Amanda & Ashley," will tell the stories of Amanda, 26, who was abandoned by her biological father and has an "emotionally distant" relationship with her stepfather, and Ashley, 22, who grew up without her father after he joined the Navy. 
"The journeys often take unexpected turns, including discovering previously unknown siblings, finding out a father is currently homeless and learning that a dad has lived only an hour away for his biological child's entire life," the statement from the network reads.