Once Again, a Black Man Is On Trial for His Own Murder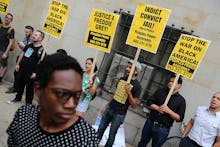 You would think that a story about the start of a murder trial would center solely on the officer set to be prosecuted. But when jury selection began on Monday in the trial of William Porter, one of six Baltimore police officers charged in the death of Freddie Gray, CNN decided to talk about the late 25-year-old's mother.
In the article's mention of Gray, he is referred to as "the son of an illiterate heroin addict." After a Twitter firestorm called out the network for its apropos-of-nothing description, the phrase was deleted.
An editor's note has also been added at the bottom of the article:
Reckless depictions of police violence victims in media are becoming old hat. Michael Brown was "no angel," according to the New York Times. Images and text messages from Trayvon Martin were used as evidence for the defense to paint a "scary" portrait of the slain teenager.
Meanwhile, white suspects of violence are often afforded more care.
Robert L. Dear, the suspect in a shooting spree at a Planned Parenthood clinic in Colorado Springs where three people were killed Friday, "preferred to be left alone," the New York Times wrote. The Times also called Dear a "gentle loner." Dylann Roof, who has been charged with nine counts of murder for the Charleston church shootings, was described as a "lone wolf extremist." He also had a past with "trouble at home and school."
In its editor's note, CNN said the phrase about Gray appeared "out of context." But the message it sent was clear: A victim of police violence can always be victimized again and again in the press.
Get more stories that help you rethink the world by signing up for our daily email newsletter.