'Fast & Furious 8' Is Coming in 2017. This Is Everything We've Heard About the Next Film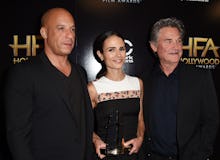 More than 15 years, over $1 billion at the box office and six sequels (soon to be seven) after the original Fast & Furious movie was released in 2001, Fast and Furious 8 is happening, Vin Diesel announced at CinemaCon in April. Straight Outta Compton director F. Gary Gray confirmed in October that he'll direct Furious 8, Variety reports. Gray also took the news to Twitter at the time with the April release date. 
It was unclear if the franchise would continue after the death of lead actor Paul Walker Furious 7, but executives announced in November 2014 that Universal would continue the series without him, according to the Hollywood Reporter. Diesel, who stars in and produces the series, confirmed in November that a storyline is already in place. 
In an October interview on the Tonight Show with Jimmy Fallon, Diesel told Fallon that the franchise's upcoming eighth film is part of a trilogy that will wrap up the series and be shot in New York City — "New York, baby!" Diesel announced on the show. What's more, Diesel disclosed that Fast & Furious was inspired by a Vibe magazine article about drag racers in New Yor, but the director decided to set the first movie in Los Angeles. "We're finally bringing it back home, baby," he said. Past sets have included Los Angeles, Brazil, London and Tokyo.
Per IMDB, Diesel, Dwayne Johnson, Michelle Rodriguez and Ludacris are all expected to return to the cast for Furious 8. 
Diesel also shared a touching story on how he met the late Paul Walker.