Best Holiday Movies on Netflix 2015: Guide to Christmas Movies and Other Holiday Movies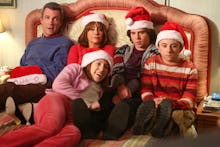 As temperatures begin to drop and winter kicks into full swing, people are gearing up for a winter of binging: Millennials are linking up for cuffing season, families are breaking out the Snuggies and the hot chocolate is steaming. The holiday spirit comes just in time, as Netflix has released a seasonal streaming guide for the entire month of December and the first two days of the new year.
The guide presents a calendar of options for audiences to choose from when they're feeling the holiday buzz in December, from I'll Be Home For Christmas to The Legend of Frosty the Snowman. Netflix also recently released a full list of all the movies and shows being coming to its digital library throughout the month.
Though the 'flix already offers a slew of holiday and Christmas-themed movies, there are a number of newly released options to choose from which easily top the list. 12 Dates of Christmas is the service's pick for Dec. 20, when viewers can watch Amy Smart's character repeatedly endure the exact same date on Christmas Eve.
Black Mirror's "White Christmas" episode will be available on Christmas day, starring Jon Hamm, Oona Chaplin and Rafe Spall. It's the sci-fi drama show's explosive Christmas special, and follows Netflix's decision in September to pick up Black Mirror for a third season that will stream exclusively on the site. 
The Nightmare Before Christmas is an appropriate viewing option for Christmas Eve. The critically acclaimed animation follows the story of Jack Skellington, the Pumpkin King of Halloween Town, who devises a plan to take over Christmas by replacing Santa Claus. The film is riddled with references, and is a classic pick to watch while awaiting Christmas morning.
Below is Netflix's "'Tis the Season to Be Streaming" calendar guide for holiday-themed film and show releases, as well as a selection of seasonal options that can already be found on the streaming service. Happy binging!
Netflix Holiday streaming options:
Saving Santa (2013)
A Christmas Carol (1938)
White Christmas (1954)
Ernest Saves Christmas (1988)
What She Wants for Christmas (2012)
Bad Santa (2003)
Mickey's Once Upon a Christmas (1999)
The Nightmare Before Christmas (1993)
The Search for Santa Paws (2010)
The Bear who Slept Through Christmas (1973)
Christmas Angel (2012)
12 Dates of Christmas (2011)
Curious George: A Very Monkey Christmas (2009)
Happy Christmas (2014)
The Muppet Christmas Carol (1992)
Yes, Virginia (2009)
Scrooged (1988)
The Muppet Christmas Carol (1992)
How the Toys Saved Christmas (1996)
The Fitzgerald Family Christmas (2012)
Everybody's Fine (2009)
Babes in Toyland (1961)
Correction: Dec. 1, 2015