'Deadpool' Movie 2016: Plot, Release Date and Latest News for Marvel Movie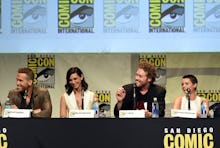 Deadpool, the film adaptation of a Marvel Comics series, hits theaters in the United States Feb. 12, and many of the film's plot and cast details have already been made public. The drama/thriller's storyline follows a character called Wade Wilson, a civilian turned supervillain.
"Based upon Marvel Comics' most unconventional anti-hero, Deadpool tells the origin story of former Special Forces operative-turned-mercenary Wade Wilson, who after being subjected to a rogue experiment that leaves him with accelerated healing powers, adopts the alter ego Deadpool," the film's production house, 20th Century Fox, said in a plot summery. 
"Armed with his new abilities and a dark, twisted sense of humor, Deadpool hunts down the man who nearly destroyed his life," according to 20th Century Fox.
The cast and crew: American film directer Tim Miller (Rockfish, A Gentlemen's Duel) directed the film, and screenwriters Paul Wernick and Rhett Reese adapted the comic for the big screen. Wernick and Reese, who are both American producers and screenwriters, have collaborated on films in the past, including on the films Zombieland (2009), G.I. Joe: Retaliation (2013) and Zombieland 2, which is unreleased.
Ryan Reynolds stars as the main character, Deadpool, alongside Morena Baccarin, who plays Vanessa Carlysle and her alterego Copycat. English rapper Ed Skrein, American actress Gina Carano and American actor and Silicon Valley star T.J. Miller join the cast with supporting roles. For a full list of the cast, head to Internet Movie Database's dedicated Deadpool page. 
For showtimes and tickets nearer Deadpool's Feb. 12 release, head to Fandango. In the meantime, here's the full trailer for Deadpool: