Lena Dunham's Nail Art Line Features Adorable Little Boobs, Vaginas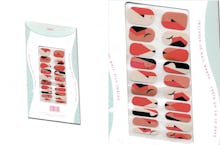 Leave it to Lena Dunham to give us what we've long been waiting for: nail art covered in boobs, butts and vaginas.
The latest nail product you need comes courtesy of Lenny, the fledgling media company launched by Lena Dunham and Girls showrunner Jenni Konner. Before today, Lenny was just a newsletter. Now, Dunham and Konner have announced a Lenny online store, full of items that each fit a specific bill, "[it] isn't just cute: it has meaning and was made with ferocity."
"Nudes" nail wraps by Lenny x Rad Nails definitely fit the bill. Created by Rad Nails, a small line of nail wraps and cuticle tattoos from BuzzFeed editor Chrissy Mahlmeister, the wraps feature subtle, Deco-style drawings that if you look reallyyyyy closely, you can see are little boobs, butts and vaginas.
"Abstract enough to be safe for work, but cool enough to make a statement," states the product description, as well as the very likable price: $12 for 20.
The wraps (which are essentially like stickers you coat with nail polish to stick onto your nails) are just one of the 10 products currently for sale in the Lenny store, all of which have a playful feminist bent. All of the products are made by "grassroots feminist businesses," as Dunham and Konner described in their store announcement, and are fairly affordable. 
Standouts include "Dismantle the Patriarchy" patch set by Lenny x Rosehound Apparel ($20), perfect for ironing onto your favorite jean jacket, and the "Feminist" banner by Lenny x Funcult, which we sincerely hope some girls are purchasing for their college dorm rooms when they return next semester. 
The products all clearly fit the Lena Dunham brand, but they also happen to be right on trend. Cheeky clothes and accessories that boldly announce their feminism upfront are "in," from the 1970s "Future Is Female" shirt that's been spotted on the likes of St. Vincent and Cara Delevingne, to chunky silver and gold rings that happen to be shaped like clitorises.
Now you can pair your clit ring, period pin, vagina purse and feminist T-shirt with boob-and-tush nail art. Ah, to be a woman in 2015.