'Top Chef' Season 13: Date, Time, Cast Info and Judges for Bravo Reality Series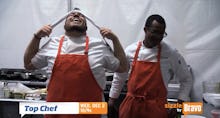 Bravo's popular cooking reality show competition Top Chef season 13 kicks off Wednesday. Model and culinary aficionado Chrissy Teigen is set to make an appearance along with M.C. Hammer, according to the network.
When and where to watch: Host Padma Lakshmi and judges and culinary experts Tom Colicchio, Gail Simmons, Richard Blais and Emeril Lagasse will return for the two-night premiere that airs Wednesday and Thursday at 10 p.m. Eastern on Bravo. This year's competition will take place in six cities across California, including Los Angeles and San Francisco, according to Bravo.
Lagasse "can't wait." 
Blais is too busy serving pop star Katy Perry, but he'll get on board. 
A multitude of culinary celebrities will drop in throughout the season. Bravo provides a full list here. 
The grand prize is a solid $125,000, a feature in Food & Wine magazine and a showcase at the magazine's annual Food and Wine Classic in Aspen, per Bravo.
Watch a preview for season 13 of Top Chef below:
Last season saw Detroit native Mei Lin win the competition. Lin grew up cooking at her family's Detroit restaurant and worked under culinary stars like Wolfgang Puck before she competed in the show.