Mark Zuckerberg Announces Baby Max — And Gives Away 99% of His Shares of Facebook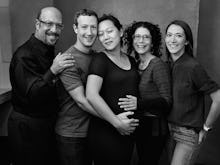 Mark Zuckerberg and his wife, Priscilla, announced today that they are now the parents of a baby girl named Maxima Chan Zuckerberg. In the same breath, the Facebook founder and CEO laid out his plans for his money, his company and the future of the planet as we struggle to bring the rest of the world online.
In a public letter to his newborn — which is actually a 2,200-word manifesto around Zuckerberg's philanthropic goals — Zuckerberg lays out disease, poverty, inequality and lack of access to the Internet and education as the challenges facing his daughter's yet-unnamed generation:
We must engage directly with the people we serve. We can't empower people if we don't understand the needs and desires of their communities.
In pursuit of his new identity as a humanitarian leader for the next generation, Zuck announced he'd be giving away 99% of his shares of Facebook over the course of his lifetime — currently valued at $45 billion.
Zuckerberg has spent that past few years courting the developing world, where 4.2 billion people are still struggling to join the Web. He's hosted the leaders of both India and China in attempts to position Facebook as the first source of access. In countries like Indonesia and Thailand, some people already have this service in the form of an annexed, simplified version of the Internet designed around Facebook.
You can read the full dedication to the birth of his child — and his commitment to unseat Bill Gates as the 21st century's greatest tech philanthropist — here:
Get more stories that help you rethink the world by signing up for our daily email newsletter.