The James Deen Allegations Speak to a Much Larger Issue in the Porn Industry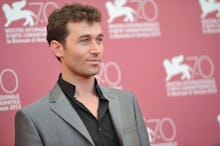 The adult industry is under intense scrutiny after adult performer and writer Stoya posted a tweet accusing her ex-boyfriend, fellow porn actor James Deen, of sexual assault. 
Her claim was supported by numerous fellow porn stars, including Deen's other ex-girlfriend Joanna Angel, who tweeted the hashtag #solidaritywithStoya. 
Deen responded to the allegations from his Twitter account, calling the claims "false and defamatory." Yet Stoya's allegations have opened a floodgate of responses from within the adult industry. At this time, several victims have publicly come forward, including adult performers Tori Lux and Ashley Fires. In an interview with the Daily Beast, Fires alleged that Deen assaulted her in the showers after a Kink.com shoot, leading her to add him to her "No List" (a list adult performers have for people they will not work with).
"I wasn't surprised," Fires told Mic of Stoya's claims, "I was angry... I felt like the same way [Stoya did about Deen] for years. I felt like, why do I have to play nice with this asshole? Why do I have to smile and nod?"
The accusations of assault against Deen have raised questions about the issue of consent and assault in the industry in general, and whether adult performers feel comfortable coming forward if their boundaries have been crossed, either on or off the set. 
The value of consent culture: Many performers in the industry say that while the adult industry is far from perfect, most people conduct themselves professionally and consent is of the utmost importance during shoots. In a March 2015 piece for Fusion, Stoya wrote that "professional adult entertainment, though often maligned and defined by its worst iterations... is largely an industry where consent is absolutely necessary." 
Adult performer Brandy Aniston, who has directed BDSM films, told Mic that performers talk through most of the acts you see on film — slapping, biting, hair-pulling, etc. — before filming. "People have the misconception that we can perform and be physically harmed," said Aniston. "What people don't know is that those scenes are very orchestrated and put together. We might not know exactly everything that's going to happen, but I'll say before we start, 'Yes you can pull my hair this way, yes you can slap me here, yes you can do that.'"
Yet although these acts are agreed upon beforehand, some people in the adult industry say they've witnessed or directly experienced mistreatment or consent violations both on and off the set.
Queer pornographer and writer Kitty Stryker told Mic that especially for newcomers to the industry, "coercion within the industry is actually pretty common." She said that some porn sites will book women to come work with them for a specific scene, then ask if they're willing to perform sex acts on camera they didn't agree to beforehand, using the performer's paycheck as a tool of coercion.
"You think 'Shit, I've already bought my plane ticket, I've already found a place to stay [so I'll just do it anyway].' You'll consent, but are you consenting from a place of power? No. That's the kind of thing that's more common, and that's because we don't have contracts that are written up, generally," Stryker explained.
"You'll consent, but are you consenting from a place of power? No."
While Stryker noted that agents "tend to protect porn performers from that kind of thing," most performers at the beginning of their careers don't have agents. Further, aside from the Adult Performer Advocacy Committee (of which Deen was the chairman before resigning on Monday), there are few organized advocacy groups for performers, leaving them little recourse if they are poorly treated or abused on set. 
Former performer Lacey Logan recounted being assaulted by a prominent director while on set of her very first film. "He basically got on me, and I'm pushing him off, telling him 'No, no,' and he says 'I'm warming you up for your scene. You're a little bit too tight, you're a little bit too tense. I need to warm you up.' And so before I filmed my first sex scene I was raped," Logan told Mic. 
She never came forward because she was concerned the police wouldn't believe her. "The cops really don't have any sympathy for sex work," she said.
The powers that be: Even companies that purport to offer a safe, welcoming environment for sex workers have faced allegations of abuse on set. Kink.com, for example, the studio where Fires alleged she was assaulted by Deen, recently released a statement condemning Deen, arguing that the allegations against him ran counter to the company's values of "consent and respect." 
Yet Kink.com has also been accused of mistreating sex workers. In February of 2013, SF Weekly reported that two former models alleged they were denied workers' compensation when they were injured on Kink.com sets. One of the models claimed "she was coerced into a performance that left her with long-lasting injuries and was offered money in exchange for keeping quiet about those injuries." (The company denied allegations of improper treatment on set.) 
In an email to Mic, a spokesperson for Kink.com said that the website takes consent "incredibly seriously." "We also keep filming during any break in the action — say if a safe-word was called — so that if there ever concern that someone was pressured, or if any precepts of our Model Bill of Rights was violated, we can address them," the spokesperson said. 
A premium on consent: Most of the adult performers Mic spoke with said that for the most part, the industry places tremendous value on the importance of safety and consent during shoots. Aniston explained that while there's a possibility of lines becoming blurred and boundaries getting crossed once the cameras actually start rolling, a film crew is always on hand to keep things under control. 
"Everything is in the hands of the talent once the camera is rolling. So if a male decides he wants to go in more aggressively, that can happen," Aniston explains. "But the girl has the power right there to stop it with the director being right in front of them.."
Others echoed the importance of realizing that the allegations against Deen shouldn't be representative of the adult industry as a whole.  "I've been in the industry for 12 years... and this is not typical," Ashley Fires told Mic of her experience with Deen. "I usually feel very safe and have a great time on set ... Most male porn actors do not behave that way."
Instead of attributing Deen's allegedly abusive behavior to porn, as many anti-porn activists have done in the wake of the allegations, porn industry insiders argue that any consent violations that might take place in porn aren't restricted to the adult industry. Instead, they're reflective of issues within society as a whole.
"These allegations, as well as the widely varied reactions to them, speak to many issues within wider society. We can certainly see something positive in a woman's brave capacity to come forward, and supportive public responses are also a good thing," Dr. Chauntelle Tibbals, sociologist and author of Exposure: A Sociologist Explores Sex, Society, and Adult Entertainment told Mic. 
"But the overwhelming presence of victim blaming, denial, and slut-shaming, among so many other negative inhumane responses, in conjunction with assault actually happening in the first place, speak to continued inequalities related to gender, sex work, and power, among many other issues."
Bound by stigma: The social stigma against sex workers has also prevented sex workers from coming forward about any abuse they might have experienced. Adult performer Kayden Kross, who co-owns the porn website TRENCHCOATX (NSFW) with Stoya, cited the stereotypes associated with the porn industry as one reason why Stoya did not want to come forward. (Neither Stoya nor Deen have responded to Mic's requests for comment.)
"Stoya's reason for staying quiet up until now was exactly the problem of the industry taking a hit as a whole if she came out with this," Kross said. "We both love and support our industry and do not want to spread the stereotype that women in it are victims, but there is one man in this industry who is making victims of women and it shouldn't have to be kept quiet."
Aniston echoed Kross's concern that the industry as a whole will be judged for the alleged actions of one person. "I'll be really honest...I've held back many of the things that have happened to me in my personal life on the fear of being judged," she told Mic.
"The public needs to understand that we might not come forward because we're scared of what the public says about us. I had a very abusive relationship and I never said a word. Because I didn't want people coming back and saying 'She just won a porn award for Best BDSM movie but she's complaining that her man beat her up?' I didn't want to have that backlash. I think it's bad that we're scared to come forward because we're scared of what people think of us."