What Is Mark Zuckerberg's Net Worth? A Look at the Facebook Founder's Wealth Over Time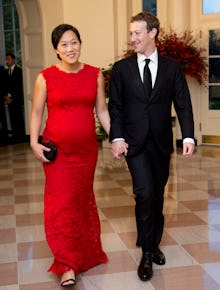 Facebook co-founder and CEO Mark Zuckerberg, a computer programmer-come-billionaire, is the No. 1 richest entrepreneur under the age of 40 in 2015, according to a ranking released by Forbes Wednesday. According to Forbes, Zuckerberg's net worth clocks in at $46.8 billion at time of writing. 
For context, and per Forbes' most recent estimates, Microsoft's Bill Gates' net worth is around $79.9 billion, Mexican telco tycoon Carlos Slim's assets measure $60.2 billion and Berkshire Hathaway's Warren Buffett's wealth is worth $64.1 billion, all at time of writing.
Giving up 99% of their shares: On Tuesday, the 31-year-old Harvard University drop-out and his wife Pricilla Chan shared an open letter to their first child, daughter Maxima, in which the couple pledged to donate 99% of their shares of Facebook to charity during their lifetime. 
"For her birth, we wrote a letter to her about the world we hope she grows up in," the couple captioned the letter, which they posted to Facebook. "It's a world where our generation can advance human potential and promote equality — by curing disease, personalizing learning, harnessing clean energy, connecting people, building strong communities, reducing poverty, providing equal rights and spreading understanding across nations."
That pile of stocks is currently valued at a hefty $45 billion. But how do those assets factor into Zuckerberg's overall net worth?
Breaking down the wealth: Zuckerberg began working on Facebook while sill at Harvard and the site officially launched in 2004. Today, Zuckerberg owns about 4 million Class "A" shares of Facebook and 471 million Class "B" shares of Facebook, according to the Motley Fool, for a total of 475 million shares.
Common stocks can be categorized depending on the number of voting rights awarded their owners. Per Investopedia, Class "B" stocks generally have fewer voting rights than Class "A" shares, though there are exceptions to that rule. For Facebook shareholders, Class "A" shares can be publicly sold and traded while Class "B" shares are privately held. 
Zuckerberg's net worth grows with Facebook. Since 2004, Facebook has seen a meteoric rise in value. Today, it's valued north of $300 billion.
And the company continues to grow its value. According to the Motley Fool, the value of Facebook stock has increased by about 145% in the three years since the company's initial public offering. Both the company's recent acquisitions and a shift in Facebook's advertising mix have helped bolster the company's revenue growth.
Facebook, and by proxy Zuckerberg, has profited enormously from a widespread shift to mobile devices, which has also caused a lift in mobile video and the advertising that comes with it. Facebook's total user base currently clocks in at around 1 billion, according to Forbes, and those users generate an average of 8 billion video views a day.
What's more, Facebook's 2014 acquisition of virtual reality firm Oculus and the mega-popular chat app WhatsApp added new worth to Facebook. These acquisitions, taken together with the uptick in Facebook's mobile ad revenue, have helped add about $13 billion worth of assets to Zuckerberg's net worth, Forbes reports.
Though the Zuckerberg's donation is currently valued at $45 billion, that valuation could appreciate over time if Facebook continues to grow its profits and its market cap.