Why You Shouldn't Be Scared of the Latest E. Coli Outbreak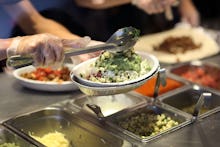 Forget the flu — this season, E. coli seems to be the potentially fatal ailment sweeping the nation. 
It started in October, when beloved burrito chain Chipotle shut down 43 of its restaurants in Washington state and Oregon after an E. coli outbreak was linked to its food. The outbreak — believed to have come from "a common meal item or ingredient" at Chipotle, according to the CDC — still managed to spread to other parts of the country, with a total of 45 infections in six different states.
Not long after, another E. coli outbreak affecting 19 people in seven states was linked to Costco's rotisserie chicken salad. Lab results eventually determined the culprit: contaminated celery from California's Taylor Farms. 
After initially recalling the rotisserie chicken salad, Taylor Farms has since recalled thousands of products — mainly pre-made salads and other vegetable products — from stores such as Safeway, Costco, Walmart, Sam's Club and Target, according to this FDA report. The recall even included 45,133 holiday turkey sandwiches from Starbucks.
Yes, the country has had two major E. coli scares in a rather short amount of time. 
Thankfully, there's good news: namely, that you don't need to build a bunker and guard yourself from E. coli's impending destruction of humankind. 
As indicated by a 2014 CDC report, laboratory-confirmed E. coli infections were "significantly lower than during 2006-2008" — a 32% decrease, according to this 2014 Food Safety Progress Report. 
In fact, E. coli experienced the largest decrease of all the pathogens listed in that 2014 report, beating out other food-borne illnesses such as salmonella and listeria. 
According to the CDC's list of investigated U.S. E. coli outbreaks by year, 2015 has not been an especially outbreak-ridden year. 2014 and 2013 also saw two outbreaks each. 2012 had three outbreaks, and 2011 had four. In fact, from 2006 to the present, no year has gone by without at least one E. coli outbreak.
The number of E. coli infections in 2014 totaled 19,542, according to the CDC. The 2015 data hasn't yet been released. Mic reached out to the CDC and will update when we hear back.
The current E. coli outbreaks are nothing to get especially upset about — unless you're a die-hard fan of Starbucks' holiday turkey sandwiches, that is.