'The Wiz Live!' 2015: Date, Channel, Cast, Trailer and Preview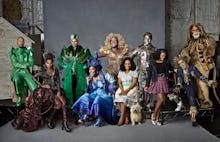 Following on the heels of other live TV musical successes, NBC's The Wiz Live! will air Thursday at 8 p.m. Eastern. The three-hour production stars an all-black cast, including Queen Latifah as the Wiz, Ne-Yo as Tin Man, Elijah Kelley as Scarecrow, David Alan Grier as Cowardly Lion, Mary J. Blige as Evillene and Uzo Aduba as Glinda. 
The cast also features hip-hop artist Common, Amber Riley and Stephanie Mills, who starred in the musical's original Broadway production, which first appeared on Broadway in 1974. Newcomer Shanice Williams, who plays Dorothy, was chosen through a nationwide talent search, beating out hundreds of other actresses who auditioned for the starring role.
"I wanted to be a part of this, no matter what," Ne-Yo told the New York Times in an article published Monday. "Like I didn't care, I'll sweep. It's our responsibility to bring this story to the next generation."
The original Broadway production of The Wiz closed in 1979 after winning seven Tony Awards, including for best musical. The 1978 film adaptation of The Wiz starred Diana Ross, Richard Pryor and a then-20-year-old Michael Jackson.
NBC's The Wiz Live! aims to reboot the show for as wide a new audience as possible. The special adds a new song composed for The Wiz Live! and new choreography featuring acrobats from Cirque du Soleil.
When it airs Thursday night, The Wiz Live! will feature an option for a simultaneous audio video description, marking the first time that a major network has made a "live entertainment program" accessible to people with visual disabilities, according to the network.
After Thursday's TV broadcast, The Wiz will hit Broadway as a full-fledged revival next fall.