Grammny Nominations 2016: Announcement Date and Predictions for the 'Big Four' Awards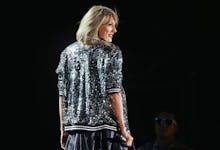 This year's Grammy nominations will be announced on Monday — and predictions on nominees are already circulating, including Taylor Swift's 1989 for album of the year and Meghan Trainor for best new artist.
Grammy award winners are selected by the Recording Academy instead of fan votes or chart performance. It also may be the most lucrative trophy an artist can take home — Taylor Swift's nightly gross income ballooned from $125,000 to $600,000 — a 380% increase — in 2010 after receiving her first Grammy, according to Forbes. The Academy will announce the official nominees for every category including the "Big Four:" album of the year, record of the year, song of the year and best new artist. In the meantime, there's no harm in speculating who it could be. 
Album of the Year: Swift's 1989 was the best-selling album of the year (before the release of Adele's 25) and though the Grammys aren't based on sales, it's also critically-acclaimed. "1989 is an easy choice for Album of the Year, as well as Best Pop Vocal Album," Forbes music writer Hugh McIntyre projects. 
Billboard also predicts 1989 will be nominated along with Kendrick Lamar's To Pimp a Butterfly and the Weeknd's Beauty Behind the Madness.
Record of the Year: Swift's "Blank Space" seems to be the leading prediction for record of the year as well. Forbes' money is on the hit break-up song for the title, possible best pop vocal performance and music video as well.  
Billboard predicts Bruno Mars and Mark Ronson's "Uptown Funk" might steal the spotlight from "Blank Space" in this category, pointing out that it spent 14 consecutive weeks on its Hot 100 chart.
Song of the Year: This award honors the songwriters behind the year's best records. Billboard once again predicts "Blank Space" will be nominated in this category along with John Legend and Common's "Glory" from the critically-acclaimed film Selma, "Uptown Funk" and Ed Sheeran's "Thinking Out Loud."
AXS predicts that country music group Little Big Town's "Girl Crush" will also be nominated. 
Best New Artist: Meghan Trainor is a strong prediction for best new artist. Billboard thinks it's Trainor's turn after her album missed the deadline for the 2015 Grammy Awards — same for Hozier. 
Fetty Wap, a Paterson, N.J. native whose single "Trap Queen" soared to the top of the charts, is another contender for best new artist, scoring an American Music Award nomination in the same category. 
Forbes predicts "Break Up In A Small Town" country artist Sam Hunt could also cinch the honor.