Who Is Alexis Boroviak? What We Know About the Ohio Teen Who Went Missing for a Month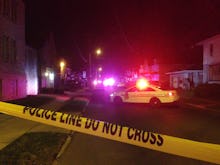 Alexis Boroviak, 15, has been found safe after going missing for nearly a month from her Brooklyn, Ohio, home, authorities said Tuesday. 
According to the Brooklyn Police Department, Boroviak was discovered at a home in Warren County, Missouri, which is west of St. Louis. According to local authorities, Boroviak was in "good condition."
"Missing Brooklyn resident Alexis Boroviak was located last evening 12-1-15," Brooklyn police Chief Scott Mielke said in a media release. "She was located in Warren County, MO. Alexis was found in good condition." 
On Wednesday, local station WKYC reported that authorities had taken a 40-year-old man into custody and are executing search warrants on the Warren County home where Boroviak was found. As of Wednesday morning, it was unclear if Boroviak had any connection to the man. 
Boroviak was last seen Nov. 8, when she stepped out of her parents' home to tend to the family's pet dog. After her disappearance, the local community held a flashlight vigil for the missing girl. 
News of Boroviak's disappearance spread across the Internet when, while on a set filming in Cleveland, Ohio, actor Nicolas Cage showed his support for the investigation by posing with a missing persons poster. The image was shared to social media on Nov. 18. 
"It is still very early in the investigation," Mielke said in the release. "The Brooklyn Police Department is working with the Internet Crimes Against Children Taskforce (ICAC) and authorities in Missouri to determine what occured. More information will be released as it becomes available."