Two More Women Have Come Forward to Accuse James Deen of Sexual Assault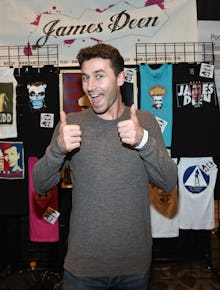 Two more women have come forward alleging that porn actor James Deen sexually assaulted them. Adult performers Amber Rayne and Kora Peters have come forward with accounts that Deen assaulted them, making them the fifth and sixth women to do so since Saturday. 
In an email she wrote to Mic and in a blog post she wrote for the adult industry website Porn Valley Media (NSFW), adult performer Kora Peters alleged that Deen sexually assaulted her during two separate occasions. She said the first incident took place when she was paired with Deen in a scene for his website. She alleged he tried to offer her extra money for performing an anal scene. 
"I told him I had never done anal and was brand new to the biz. He assured me it would only be one position for two minutes," she told Mic. "When he rammed himself inside my ass I shot off across the bed and started crying because it hurt so bad." She added that the director of the scene, a friend of Deen's, yelled at her "for ruining the scene by crying." 
"James and the director both told me that I couldn't leave and wouldn't get paid if I didn't finish the scene. ... I had to call a friend to come get me because I was physically and emotionally too fucked up to drive home from set.  I then called my agent and told him to put anal on my no list as I couldn't handle it," Peters said.
The second incident allegedly took place when Deen and Peters were paired together for a shoot by a large production company. "I was paired with James and we were only doing a boy/girl scene, as anal was on my no list," Peters said. "James keep trying to get inside my ass but I kept pushing him away, so he choked me then he slammed my face down into the couch and forced himself in my ass anyways."
When she called her agent to complain, Peters said her agent told her "I should feel honored that James wanted me so badly because he was one of the best male performers."
Peters claimed she had to consult a personal physician after being coerced into doing the anal scene with Deen. "I just want to prevent this from happening to any other women," she said. 
In an interview with the Daily Beast, Rayne alleged that Deen assaulted her during a sex scene. 
"We were in a piledriver, he was fucking me in the ass and I said something like, 'Yeah fuck me like that you son of a bitch.' His face twisted and he came down on my face two times—close-fisted," Rayne told Daily Beast reporter Aurora Snow. 
"I was punched in the face while he was still in my ass and then he starts going crazy on my butt—extreme, brutally fucking it. He just starts shoving things in to the point where he ripped it and I bled everywhere. There was so much blood I couldn't finish the scene."
The damage was so extreme, Rayne said, that she had to receive stitches. "It took many years before we worked together again... my agent showed up at the end of that scene and said, 'We're taking you straight to the hospital.' He was pissed," she said. Later in her career, Rayne consented to shoot another scene with Deen with a different director. 
Since Saturday, Peters and Rayne are the fifth and sixth women to come forward alleging that Deen had abused them. Stoya, another adult performer and Deen's ex-girlfriend, alleged in a tweet Saturday he had sexually assaulted her while they were dating.
Four other women have also come forward, including adult performers Tori Lux and Ashley Fires. In an interview with LAIst, a writer who identified herself only as "T.M." also alleged that Deen assaulted her at an awards show party. 
In an interview with the Daily Beast, Fires alleged Deen "pushed [himself] and his erection into my butt" while they were in the bathroom after shooting a scene for Kink.com.
"He pushes me against the sink and starts grabbing on me and I was like, 'No, no, no James, no,' and he released me from his grasp, and says, 'You know, later if you want to fuck around I'm in room whatever-it-was. I was like, 'Fuck you.' I didn't even know this guy, he was so out of line and entitled with my body," Fires said. 
On Monday, the adult film companies Kink.com and Evil Angel announced they were formally cutting ties with Deen. "Our performers deserve not only safe sets, but the ability to work without fear of assault," the company said in a statement. "Rape or sexual assault, with or without a safe word, off-set or on, should never be accepted as a hazard of adult production."
Deen refuted the allegations in a series of tweets on Sunday. "I want to assure my friends, fans and colleagues that these allegations are both false and defamatory," he wrote. 
Deen has not responded to Mic's repeated requests for comment. 
By sharing her story, Peters hopes that it will change how society views assault against sex workers.
"People ask how can you rape a pornstar, and I find that to be cruel," she said. "We are people and no means no, no matter your profession."
Dec. 2, 2:55 p.m. EST: This story has been updated.