Artist Photoshops Kim Kardashian, Kendall Jenner in #StopViolenceAgainst Women Campaign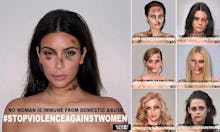 Kim Kardashian, Kendall Jenner and a number of other female celebrities are having their images used — without their permission, allegedly — in an anti-violence against women campaign currently flooding Twitter and other social media outlets. On Nov. 23, artist and activist Alexsandro Palombo posted a series of edited images on Facebook, showing the women with beaten and bruised faces and chests. Each picture was captioned, "No woman is immune from domestic abuse. #StopViolenceAgainstWomen."
"The biggest accomplice of violence is the silence, a silence which every year kills or causes permanent disability more than diseases or accidents," Palombo wrote on his Facebook page. "Domestic violence is a social cancer that knows no boundaries nor social status. It can affect anyone, whether you're an ordinary person or a celebrity."
In the doctored photos of Kardashian, 35, and Jenner, 20, both women have black eyes, bruised lips, cuts along their faces and strangle marks on their necks. A statement above both photos reads, "Life can be a fairytale if you break the silence."
The images were first reported by TMZ, when the tabloid reported Kardashian and Jenner were upset their images were used. The Hollywood Gossip reported the Kardashian family would be suing the artist, though Palombo's representative told the Independent they "are not aware of any lawyer contact" from either of the celebrities. 
The other celebrities used in the #StopViolenceAgainstWomen campaign include Miley Cyrus, Angelina Jolie, Emma Watson, Kristen Stewart, Gwyneth Paltrow and Madonna. The photos were posted to Facebook just two days before the United Nations' International Day for the Elimination of Violence Against Women on Nov. 25.
This isn't the first time Palombo used images derived from pop culture to make a powerful statement. 
Recently, the contemporary artist shared images of disabled Disney princesses, along with the hashtags #ArtForaGoodCause and #EqualRights. His work doesn't solely focus on women, however: Another recent Disney-themed project shows some of the most famous male characters from movies like Mulan and The Little Mermaid in their boxers, holding up condoms with a caption that reads, "Hello, boys! The time to act is now."