Tool Tour 2016: Dates, Tour Info, Opening Act and More for 16 Show Run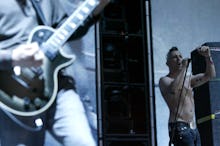 In November, Grammy-winning metal band Tool announced on its website they would go on tour in January, kicking off in San Diego. In classic Tool fashion, the tour will be a "sonic and visual extravaganza," the band said on its Facebook page. The 2016 tour is expected to feature 16 shows and 14 cities, including Nashville, Tennessee; Atlanta and New Orleans. 
The one-month tour comes ahead of the release of the band's highly anticipated new album, which was in the works for years but has been stalled by lawsuits. The last time Tool released an album, titled 10,000 Days, was in 2006. 
"I don't want to make any promises, but we try to make it a really great visual experience," Tool guitarist Adam Jones told Rolling Stone in November about the upcoming tour. "To me, it's always been the visuals are first, and seeing the band is secondary. That's what we would want it if we saw a concert."
Tour dates: Here are Tool's tour dates and cities, via Consequence of Sound: 
Jan. 9 – San Diego at Viejas Arena 
Tool's only live appearance this year was at Arizona's Monster Mash festival on Halloween, when the band surprised fans by dressing up as Led Zeppelin. 
Musical guests and tickets: Tool's return to the stage will be accompanied by fellow rock bands San Francisco-based Primus and Los Angeles-based 3Teeth, according to Loudwire. 
Tickets for the tour go on sale Friday. Tickets can be found here.