'The Daily Show' Cancels Chris Brown's Appearance on Tuesday's Episode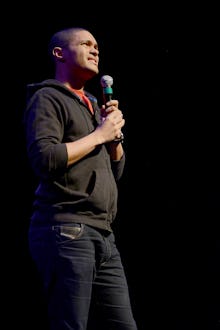 Nick Cannon was the guest on Tuesday night's The Daily Show, but he wasn't supposed to be.
The Daily Beast reported Monday that there was some internal conflict over the planned guest for Tuesday's show, singer Chris Brown. Sure enough, a few hours before the episode aired, the show's Instagram account posted a photo of host Trevor Noah and the new guest: Nick Cannon.
As the Washington Post noted, even as the show aired, TV Guide displayed Brown as the intended guest. So what happened? Why the sudden swap to Chi-Raq star Cannon?
A Comedy Central representative told Mic in a statement that guests slated to appear "are always subject to change," adding that "the show hopes to reschedule Chris for a future appearance." The last bit is particularly interesting considering the Daily Beast's reports that the battle over whether to keep Brown as a guest was a fight between Noah and other staffers.
According to the Daily Beast, Noah's hope was to "use the interview to bring light to domestic abuse issues" in light of Brown's previous assault of then-girlfriend Rihanna. Noah even brought up the idea of focusing on abuse in the interview at the Monday staff meeting.
Considering the show is open to having Brown on at another time, the reasons behind the rescheduling are particularly suspect. As the Daily Beast noted, there were apparently concerns about Noah's previous tweets making light of Brown and Rihanna. It's not the first time Noah would have gotten into trouble for his tweets.
Noah has not yet commented on the last-minute guest swap. The Daily Show's planned guest roster for the rest of the week includes Lupita Nyong'o on Wednesday and Idris Elba Thursday.