Beck's Working on a New Album — Here's the Latest Single and Everything Else We Know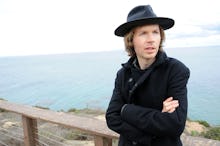 On June 12, alt-rock fixture Beck sat down with Alt 98.7 in Los Angeles and dropped an exciting bomb: More than a year after the release of his Grammy-winning Morning Phase in February 2014, he was coming out with a new LP. Three days later, he dropped the first single, "Dreams," from his as-yet unnamed album. It immediately climbed to the No. 1 slot on the Billboard + Twitter Trending 140 chart. 
Consequences of Sound reported on the interview, saying that the artist, then on tour, released the track early to familiarize his audience with his new work. "I was really trying to make something that would be good to play live, be good for the show," Beck told the music website. When asked how it compared to Morning Phase, which won for album of the year, best rock album and best engineered album, non-classical at February's Grammy Awards, he was clear: The forthcoming album will be its "opposite," Beck said. 
Here's what we know about Beck's new album. What's clear at this point is that Beck has signed on an impressive roster of collaborators for the (probable) 2016 release. He told Alt 98.7 that he would be working with a large group of people, musician and producer Greg Kurstin among them. Kurstin has worked with pop acts including Taylor Swift, Pink, Ke$ha and Lily Allen, along with indie artists such as The Shins, the Flaming Lips and Sia. 
Source: Soundcloud
Most recently and perhaps most notably, Kurstin worked with Adele on "Hello," functioning as both producer and co-writer. The video for "Hello" shattered the Vevo record for most views in one day, pulling in a total of 27.7 million, according to Billboard. 
Album's first single, "Dreams:" CreativeJenius reported that Kurstin co-wrote "Dreams" with Beck and Andrew Wyatt of Miike Snow. He and Beck covered instrumentals and produced the song, while five-time Grammy Award-winner Serban Ghenea mixed it. The "Dreams" team indicates a hit-making cast of creatives behind Beck's latest, although no additional information has been forthcoming since an August tweet that suggested Beck was back in the studio.
This will be Beck's 12th official studio album. "Dreams" is available for listening below.
Beck's last album: Rolling Stone called Morning Phase "an instant folk-rock classic," and Spin compared the listening experience to "a sun-kissed stroll through gentle waves of melody." The album was widely heralded as an extension of 2002's Sea Change, which was soft and sad and "wine-dark," in the words of one Rolling Stone review. If Morning Phase recalled a more reserved Beck, fans can reasonably expect that this opposite, unnamed album will be a return to the exuberant, unrestrained style of earlier years: shades of 1999's Midnight Vultures, maybe, or even his 1994 debut, Mellow Gold.