Here's Where Mark Zuckerberg's $45 Billion Is Really Going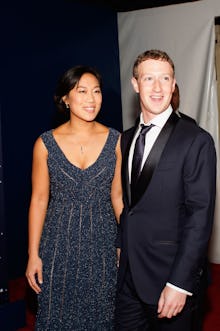 In Mark Zuckerberg's letter to his newborn daughter, Maxima Chan Zuckerberg, the Facebook CEO pledged to donate 99% of his shares in the company to charity over the course of his lifetime. Today, those shares are worth an estimated $45 billion, he says. So where will all that money go?
In the letter, Zuckerberg and his wife, Priscilla Chan, announced the Chan Zuckerberg Initiative, an organization whose mission is to "advance human potential and promote equality in areas such as health, education, scientific research and energy." 
Vague! It's important to note that the Initiative isn't a charity or a charitable trust — it's an LLC, which means Zuck and Chan can funnel money into private investments.
But we can learn a bit about the future of the Chan Zuckerberg Initiative from its past contributions. Since 2009, when the Initiative launched on Facebook, it has directed quite a bit of money toward global Internet access and the future of education. Here's a brief timeline.
2009: Zuckerberg and Chan donated $5 million to the University of California, San Francisco Children's Hospital to build a new medical center at Mission Bay. It opened in February 2015.
2010: The Initiative established Startup:Education, an education nonprofit that caters to under-served schools. 
2010: Through Startup:Education, the Initiative invested $100 million in Newark, New Jersey, public schools. But it came to be seen as a failure with no real effect on these schools and a high-profile publicity ploy timed around the release of The Social Network.
2012-2013: Two years in a row, the Initiative donated 18 million Facebook shares to the Silicon Valley Community Foundation, a philanthropic organization.
2013: The Initiative established the Breakthrough Prize in Life Sciences, which is, at $3 million, the world's biggest prize for scientific research. In November 2015, Zuck and co. (the other founders include Google's Sergey Brin and his ex-wife, 23andMe's Anne Wojcicki) gave away $21.9 million in prizes.
2013: The Initiative launched FWD.us, a lobbying group that focuses on immigration reform. 
2013: Facebook created Internet.org, an organization dedicated to providing Internet access to everyone in the world. Currently, 4.2 billion people still don't have Internet access. Thanks to Internet.org, many people in nations like Indonesia and Thailand now have free access to Facebook services, Google search and Wikipedia, among others. 
2013: The Initiative donated $3 million to EducationSuperHighway, a group whose goal is to improve Internet access in American public schools. 
2014: Startup:Education made a $120 million commitment to Bay Area schools. 
2014: The Initiative donated $25 million to the CDC Foundation to fight Ebola. 
2015: Zuckerberg and Chan donated $75 million to the San Francisco General Hospital for new equipment. A new public hospital, to be renamed the Zuckerberg San Francisco General Hospital and Trauma Center, is scheduled to open in spring 2016.
2015: The Initiative invested $10 million in Bridge International Academies, an organization that strives to improve education for families who live on less than $2 a day. 
2015: The Initiative invested $15 million in AltSchool, a network of K-8 schools that specialize in personalized education for each student. 
2015: The Initiative donated $5 million to TheDream.US for college scholarships for undocumented immigrants in the Unites States. They had also previously donated $2.5 million to this organization. 
2015: The Initiative invested $5 million in MasteryConnect, software for teachers. 
2015: The Initiative announced that it was creating a free, private elementary school in East Palo Alto, California, called the Primary School, which will open in fall 2016.
2015: The Initiative donated another $20 million to EducationSuperHighway. 
2015:  In partnership with Bill Gates, Richard Branson, Meg Whitman and other investors, Zuckerberg and Chan launched the Breakthrough Energy Coalition, an organization dedicated to investing in "zero-emission energy innovation."